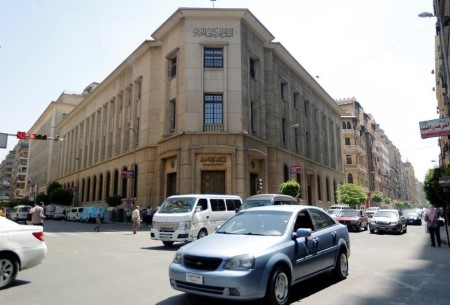 Egypt's central bank is seen leaving key interest rates unchanged this month, a Reuters poll indicated on Tuesday, after it raised them by 200 basis points last month for the second time in a row as inflation soared.
Egypt has raised key interest rates by 7 percentage points since it floated the pound in November as part of a $12 billionInternational Monetary Fund programme aimed at boosting the economy.
"I expect no change given that the CBE has already hiked in the previous two meetings and inflation is peaking and will decline in the coming months," said Reham ElDesoki, an economist at Arqaam Capital.
Inflation has been climbing up since the float in November. Key inflation rates soared to multi-decade highs last week on the back of energy subsidy cuts agreed with the IMF.
Egypt in June hiked fuel prices by up to 50 percent and electricity prices by up to 42 percent in an attempt to narrow its gaping budget deficit.
"The effect of fiscal reforms will taper off and the positive impact of the base effect starting November 2017 will lead to a quick decline in annual headline inflation in the fourth quarter of 2017 onwards," said ElDesoki.
Appetite in Egypt's domestic debt has increased due to the high interest rates, but investors, whose foreign currency Egypt badly needs, have put off their expansion plans.
"High interest rates are acting to dissuade the private sector from investing and, therefore, economic growth will not be optimised, as few new jobs are, so far, being created," said Angus Blair, chief operating officer at Pharos Holding.
Egypt's economic growth has deteriorated since a 2011 uprising drove tourists and foreign investors away, draining foreign reserves and putting pressure on President Abdel Fattah al-Sisi who has to maintain support amid tough economic reforms that have sent inflation shooting up.