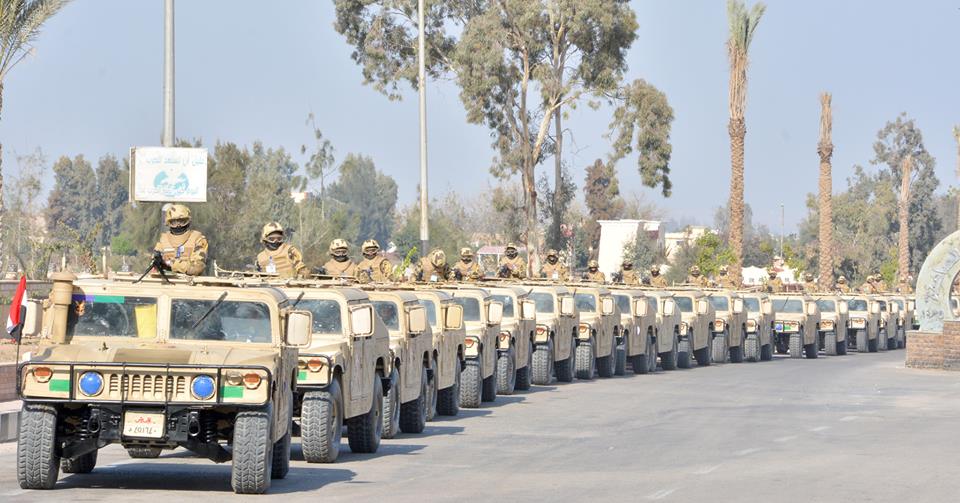 The Egyptian Armed Forces' spokesperson Tamer al-Refai announced Friday that seven militants were killed and over a dozen explosives were detonated during an army operation in North Sinai.
In a statement, Refai explained that the operation emerged from intelligence information stating that a terrorist outpost had been located in a North Sinai farm.
One terrorist was killed during the raid while the remaining six were eliminated while trying to escape, after army forces tracked them down through security surveillance cameras and wiped them out.
Authorities seized a four-wheeled vehicle, three motorcycles without license plates, detonated 10 explosive devices, four explosive belts, two automatic guns and sniper rifle, three pistols, large quantities of various ammunition, 12 mobile phones of different types and four two-way radio devices.
The statement assured that the armed forces dutifully continue their mission to uproot terrorism and maintain the security and safety of the homeland.
Refai previously said on April 30 that an explosive device targeted an armored vehicle south of the city of Bir al-Abd, North Sinai, causing 10 casualties — Refai did not specify how many soldiers had been killed or wounded.
At least one officer was in the group.
The Egyptian military has for years been waging a bloody insurgency against Islamist militants in Egypt. Violence escalated in 2013, following the ouster of President Mohamed Morsi by the army.
Scores of Egyptian security personnel have been killed in attacks, primarily by militants from a local affiliate of the Islamic State group.
In 2018, Egyptian security forces launched a nationwide operation targeting militants, focusing on the restive North Sinai region.
According to army data, at least 845 suspected militants have been killed in the region along with more than 60 security personnel.