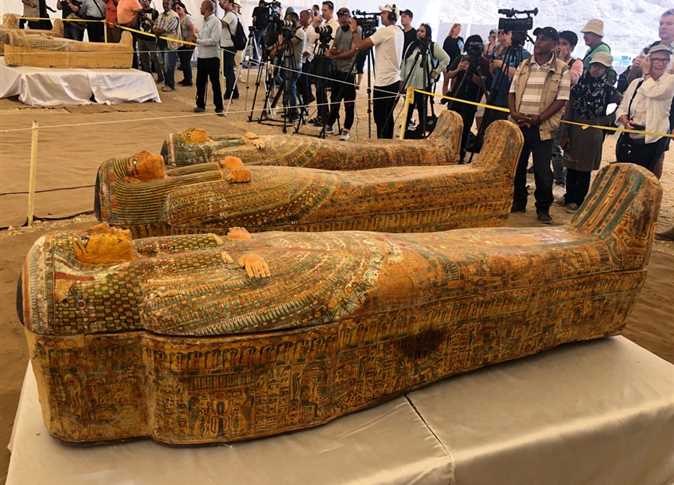 Egypt's Antiquities Ministry on Saturday unveiled details regarding the cache of mummies and pharaonic coffins discovered at Thebes cemetery in the west of Luxor, the first cache of coffins to ever be uncovered by an Egyptian archeological mission.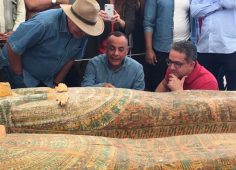 Amid international media coverage, Antiquities Minister Khaled al-Anani officially announced the Egyptian archaeological mission's success.
Headed by the Secretary General of the Supreme Council of Antiquities Mostafa Waziri, the mission unveiled the al-Assasif cache which includes a distinct group of around 30 colored wooden coffins belonging to men, women and children, so well preserved that details such as inscriptions are still intact.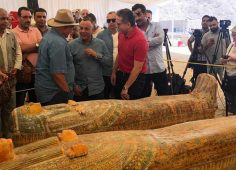 He stated that the coffins had been discovered in the very same position as the ancient Egyptians had left them, sealed with the mummies inside. They were found on two layers; the first level contained 18 coffins, while the second contained 12 coffins.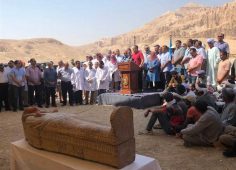 "It is the first large cache of human coffins discovered with all items since the end of the 19th century. Today, more than a century later, Egyptian archaeologists are adding another new cache in Luxor," Anani said.
Previous famous sarcophagus cache discoveries include the cache of Deir al-Bahari, which was announced in 1881, another cache found inside the tomb of King Amenhotep II "KV35" in 1898 and the cache of Bab al-Gusus in 1891, where dozens of priest mummies were found.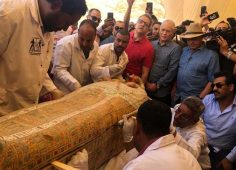 Anani thanked the archaeologists, restorers and workers, adding he is proud of his work with the archaeologists in Luxor, as this is the first cache of coffins ever discovered by Egyptian archaeologists.
The ceremony was attended by archaeologist Zahi Hawass and Governor of Luxor Mostafa Alham, amid international and local media coverage.
Waziri explained that uncovering the cache began about two months ago when excavations began to continue the previous season. The uncovered wooden coffins date back to the 22nd Dynasty of the 10th century BC, 3000 years ago.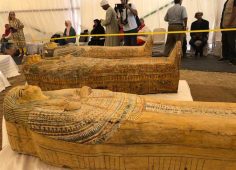 The cache contains a collection of sarcophagi belonging to priests of the gods of Luxor, the gods Amun and Khonsu, and children.
The inscriptions on the sides of the sarcophagi represent various subjects, such as how to make offerings, gods, scenes from the Book of the Dead, offerings being made to kings, and texts containing titles of the coffin owners, including one who was known as a singer to Amun.
The Director General of Archaeological Affairs at the Grand Egyptian Museum (GEM) al-Tayyeb Abbas said that the entire collection will eventually be transferred to the GEM.
Edited translation from Al-Masry Al-Youm