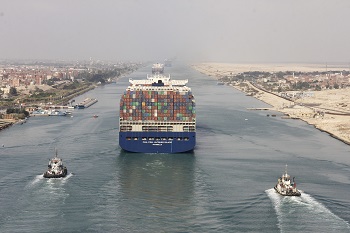 Egypt's ambassador to France Alaa Youssef on Tuesday participated in the Franco-Arab Chamber of Commerce's event in the presence of major French companies and ambassadors of Arab countries, in which a session was allocated for projects and opportunities available to French companies in Egypt.
Youssef presented the development of the political and economic conditions in Egypt over the past decade and the praise of many international financial institutions for the performance of the Egyptian economy.
Their reports indicated that Egypt is one of the few countries which managed to achieve positive growth rates during the past year despite the coronavirus pandemic.
Youssef introduced opportunities available in the priority sectors of development including renewable energy, infrastructure, communications and information technology, petrochemicals, and the automotive industry.
He also highlighted various giant projects in Egypt, such as the Suez Canal economic zone and the advantages it offers to foreign investors, foremost of which is the possibility of exporting products manufactured in Egypt to African countries without customs duties according to the African Continental Free Trade Agreement.
And he presented incentives offered by the Egyptian government to foreign investors in general such as the "Decent Life" initiative, which provides great opportunities for French companies to implement infrastructure projects.