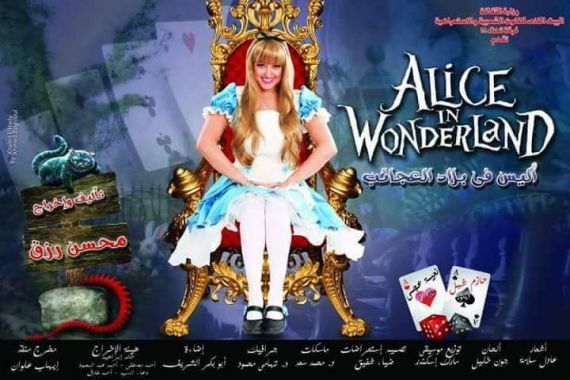 The Egyptian version of the play "Alice in Wonderland", currently showing at Balon Theater, neared LE 1 million in revenue after only 40 showings, a number that has never been paralleled in Egyptian theater history.
This is the result of the play witnessing full bookings the entire week.
Scriptwriter and director Mohsen Rizk expressed happiness with the number of Egyptian families he witnessed coming to the show, adding that he was happy to see them interact with the show and the cast.
"Alice in Wonderland" stars Marwa Abdel Moneim, Diyaa Shafik, Hany Abdel Moatamed and Basma Maher.
Based on the original novel by English author Charles Lutwidge Dodgson, under the pseudonym Lewis Caroll, "Alice in Wonderland" tells the story of a young girl named Alice, who after falling into a rabbit hole, falls into a fantasy world where she meets weird, anthropomorphic creatures. The tale is considered one of the greatest literary nonsense tales of all time.
It also resulted in two of the most famous imaginary characters for kids: the Mad Hatter and the Queen of Hearts, who represent the basic good and evil.
The oldest screen adaptation of the story dates back to 1903. It was a silent film directed by Cecil Hepworth and Percy Stow. Only one copy of the film is known to still exist, and its restored version runs for 9 minutes and 36 seconds.
The story has come a long way since then. Perhaps the most famous adaptation of the story became the animated movie which Disney released in 1951. The movie remains a Disney classic to this day.
The most recent adaptation of the Alice world was titled "Alice Through the Looking Glass", a sequel to "Wonderland". The movie starred Mia Wasikowska as Alice, Johnny Depp as the Mad Hatter, Ann Hathawy as the White Queen and Helena Bohem Carter as the Red Queen, more commonly known as the Queen of Hearts.