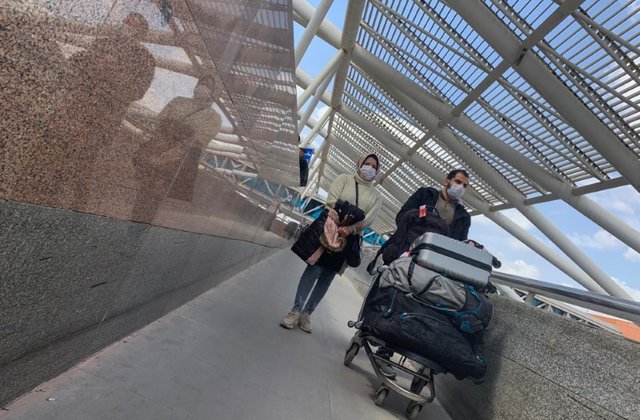 Egypt's Prime Minister Mostafa Madbouly moved on Tuesday to extend the suspension of international air traffic in airports nationwide until April 15, as part of measures to confront the spread of the new coronavirus (COVID-19).
The flight suspensions were originally set to last from March 19 through March 31, with the Prime Minister saying the original two-week suspension would cost local firms in the aviation sector LE 2.25 billion in losses ($US 143 million).
Madbouly also imposed a two-week nighttime curfew nationwide between 7 pm and 6 am beginning on Wednesday, March 25.
Hospitals, medical centers and healthcare staff, as well as journalists, are exempt from the curfew, with violaters subject to penalties ranging from a fine of LE 4,000 to imprisonment.
The Prime Minister also said that the curfew does not apply to vehicles transporting essential goods like medicines, medical supplies, petroleum products, and food supplies, as well as vegetables, fruits, and likewise.
Shops are now closed from 5 pm until 6 am during the week, while all stores will be subjected to a complete shutdown on Fridays and Saturdays. All means of public and private transportation are suspended during curfew hours.
The closure decisions do not include bakeries, pharmacies, grocery stores or supermarkets outside shopping centers, Madbouly said.
The new measures announced on Tuesday also include the suspension of schools and universities across the country for two more weeks starting Wednesday, as well as the closure of all cafes, bars, cafeterias, and restaurants nationwide all day.
Restaurants will be limited to home delivery only.
Authorities suspended Friday prayers and congregational prayers in mosques nationwide on March 21 and churches were closed across the country over the weekend as well. Museums and tourist sites have also been closed through March 31 and are undergoing sterilization.
Egypt announced on Tuesday 36 new coronavirus cases and one additional death, bringing the total number of cases confirmed so far in the country to 402.
Twenty people have died from the virus in Egypt, as well as two senior military officers.
There have been over 424,198 confirmed cases of coronavirus worldwide and upwards of 18,900 deaths.
Image: Passengers wear protective face masks upon their arrival, at Cairo International Airport (CAI) as Egypt ramps up its efforts to slow the spread the coronavirus disease (COVID-19) in Cairo, Egypt, on March 19, 2020 (REUTERS/Amr Abdallah Dalsh)