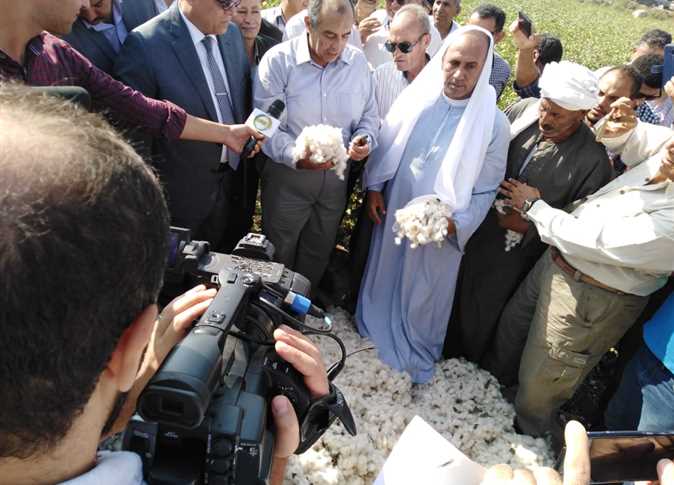 Minister of Agriculture and Land Reclamation Ezzeddin Abo Setit, accompanied by Governor of Fayoum Jamal Sami and the leadership of the Ministry, launched the cotton harvest season on Saturday in the governorate of Fayoum as part of the government's plan to encourage cotton cultivation expansion.
The crop appears promising this year, and the cultivated area across the country is 336,000 feddans, an increase of 110,000 feddans compared to last year or 50 percent, Abo Setit said, adding that the price of propagation for cotton is LE 2,500 per quintal (a unit of weight equal to 100 kg), plus LE 100 in case farmers delivered their crops before October 15.
The minister of agriculture called for the development of spinning and weaving machines to absorb Egyptian cotton and manufacture it locally instead of relying on exports, so that added value can come to the national product and thus restore Egypt's status as a cotton producer.
He added that demand amongst farmers to cultivate cotton depends on marketing and the existence of a fair price, as cotton is a strategic three-purpose crop used in the manufacturing of clothing, oil and feed.
For his part, the Governor of Fayoum said that the area of cotton cultivation in the province is 16,000 feddans, and that Fayoum is one of the largest governorates in Upper Egypt for cultivation of cotton.
He added that average production this year may exceed 10 quintals per feddan, all thanks to cooperation with the Ministry of Agriculture.
Edited translation from Al-Masry Al-Youm