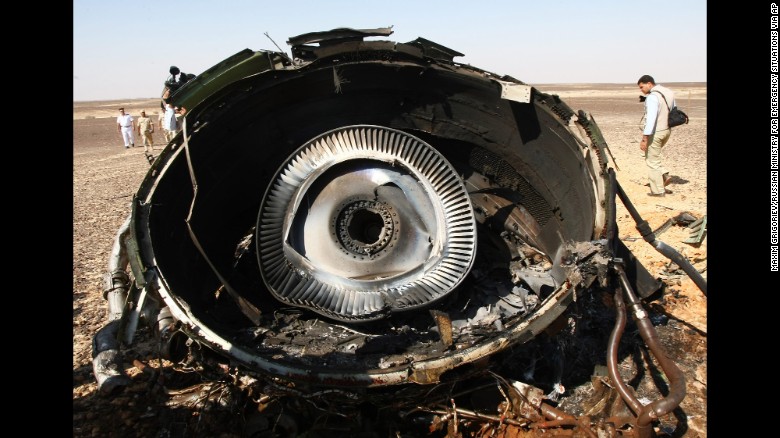 Britain's swift suspension of flights after the Russian plane crash in Sinai has revived old grievances in Egypt, where many accuse the former colonial ruler of acting out of malice and suspect a dark plot against their country.
Newspaper columns, television broadcasts, street conversations and even government websites repeat a daily chorus of accusations that Britain pre-empted the investigation when it said the plane was likely to have been brought down by a bomb.
Suggestions that security at Sharm al-Sheikh airport where the plane took off was sub-standard also wounded national pride.
"I'm not one of those people who goes on about conspiracy theories, but there are signs of one," Major General Magdi Moussa, security chief in the southern Sinai Peninsula, told the Egyptian daily Al-Masry Al-Youm this week.
"Five days after the plane crash, there was talk that it was caused by terrorism – without evidence. This confirms that there is ill-will towards Egypt."
Columnist Hani Assal said hostility to Egypt was a feature of British journalism from the Nasser era in the 1950s through to President Abdel Fattah al-Sisi's visit to London last week.
"Throughout history British media committed dozens of professional errors, starting with the fierce campaign against the late President Gamal Abdel Nasser after the expulsion of the British occupation," he wrote in the state-owned al-Ahram newspaper.
"The unfortunate result is that the British media is part of a big plan, which started with the president's visit and probably isn't over yet."
The United States, which also said Islamic State probably brought down the plane, has come in for criticism too. "The American media and the plane accident … the lies don't stop," a headline in Al-Ahram said on Thursday. "The plane and the conspiracy", said the state-owned Al-Gomhuriya newspaper.
ET TU, PUTIN?
Most of the media criticism of the West skirted around the fact that Russia has gone further than Britain by banning all flights to Egypt, most likely for months.
But Al-Masry Al-Youm, the country's largest independent newspaper, summed up the dismay at Russia's move in a front page headline: "Even you, Putin?"
The Russian president is often lionised in Egyptian media as Egypt's steadfast ally in its battle with militants and a counterbalance to U.S.-led Western dominance.
"Russia was forced into this by the British," said a scuba diving instructor in Sharm al-Sheikh who declined to give his name. "The British suspended flights and Putin looked bad because it was his people who died and another country seemed to have more care for their citizens than he did."
Foreign Minister Sameh Shoukry has chastised Britain and the U.S. for not sharing intelligence they said pointed towards a bombing, an argument his ministry reinforced on its website.
"Egypt has been fighting a war on terror for the past few years, without the least offer of assistance from the powers that now speak so volubly about our shortcomings and mishaps," read a newspaper editorial posted on the ministry's blog.
"Thinly veiled ill-will has permeated the premature speculation of Western powers."
PEOPLE OF EVIL
The idea that Egypt faces a grand conspiracy appears to have even presidential endorsement. Asked about the swift flight suspensions, Sisi blamed unnamed forces working to undermine Egypt.
"These are intense pressures and the people of evil try to circumvent all the successes achieved by Egypt," he said on a short visit to Sharm al-Sheikh airport on Wednesday.
"People of evil" is a phrase the president has often used, most notably at the unveiling of the New Suez Canal in August, to refer to the Muslim Brotherhood, the group which he ousted in 2013 after mass protests.
The idea that Western governments support the Brotherhood and oppose Sisi's removal of former President Mohamed Mursi, a member of the group, is popular in Egypt's media and some parts of Egyptian society.
Sisi said Egyptians must respond with unity and a sense of purpose, holding up a clenched fist to drive home his message.
"Even if we don't eat, we will build our country," Sisi said. "We won't eat? So be it. We will go hungry? What's the problem? As long as our country is safe and secure, as long as we move forward. Our success is obvious and it will continue."