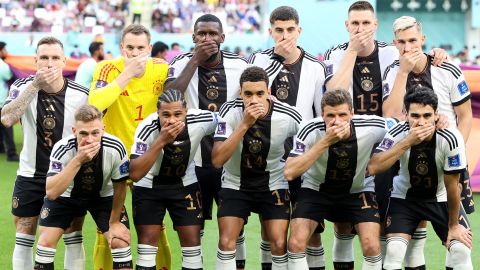 A large number of the Egyptian and Arab public have launched an attack on the German national team.
The main reason for this was that they were objecting to Qatar's ban of gay symbols during the FIFA World Cup 2022, RT reported.
One of the most prominent comments was Egyptian actor, Mohamed Henedy, on Twitter, who described the German team's behavior as "arrogance and bullying".
"Imagine the amount of arrogance and bullying.. that someone enters your house and wants to forcibly impose their opinion on you and call for things that you, your religion, your customs, your traditions and your society reject," Henedy wrote.
As for the Omani commentator Khalil Al Balushi, he wrote on his Twitter page that the German team lost morally before losing the match from Japan.
Hashtags attacking the German team were trending on social media on Wednesday, where a large number of the Arab public expressed their dissatisfaction.
The German Football Association issued a statement, explaining the reason of the group photo of its players before the Japan match.
The German players drew attention with an unusual group pose while taking souvenir photos before the match, as they all covered their mouths with their hands.
The German Football Association statement read: "We wanted to use our captain's armband to take a stand for values that we hold in the Germany national team: diversity and mutual respect. Together with other nations, we wanted our voice to be heard.
"It wasn't about making a political statement – human rights are non-negotiable. That should be taken for granted, but it still isn't the case. That's why this message is so important to us. Denying us the armband is the same as denying us a voice. We stand by our position."