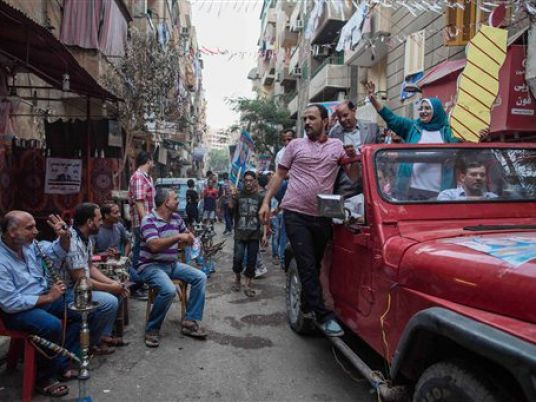 Riding through neighborhoods waving to constituents and glad-handing supporters, three Egyptian women candidates work the campaign trail.
The trio represents three major groups running in the country's parliamentary election, with voting in Egypt starting Sunday. It's Egypt's first parliamentary election since the military-led ouster of Islamist President Mohammed Morsi in 2013.
Independent candidate 40-year-old Asmaa Ahmed Abdel Hakeem is a manager of a family-owned school. It's her first time running in an election and she says her family has been supportive.
Independent candidates will take up 448 seats, or 75 percent of the seats. Party lists will make up 120 seats, or 20 percent of the parliament.
As required by law for all party lists, the ultraconservative Salafi Al-Nour party has seven women on each of its two party lists of 15 candidates. Among them is Hanan Allam, a 45-year-old pediatrician and head of the party's women's committee.
Sahar Talaat Mostafa is running under For the Love of Egypt, a list put together by a prominent retired army officer that also includes candidates who are former government ministers and high-profile businessmen. It supports President Abdel-Fattah el-Sisi and is seen as the front-running list.
Mostafa is the sister of real estate tycoon Hisham Talaat Moustafa, once a prominent member of Egypt's ruling party during former autocrat Hosni Mubarak's era. The businessman was sentenced in 2010 to 15 years in prison for conspiring to murder 30-year-old Lebanese singer Suzanne Tamim.
Here is a series of photos taken by Associated Press photographer Eman Helal, who followed the candidates on the campaign trail.