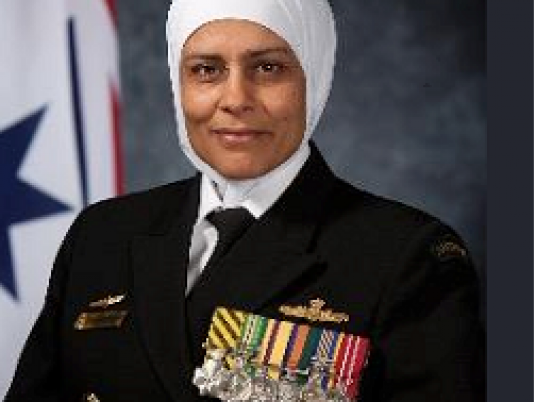 Captain Mona Shindy was named the Telstra Australian Business Woman of the Year last month, a prestigious accolade won by top officials in the Australian Defense Force.
Captain Shindy is the first Arab to be appointed the head of the Guided Missile Frigate System Program Office in Australia.
The veteran captain carved out her distinguished career almost 26 years ago as a warship weapons engineer and the head of various technical support teams.
Her invaluable leadership in complex procurement projects for major Defense assets, including patrol boats and littoral warfare equipment, helped make her presence felt.
Captain Shindy also holds the position of Chief of Navy's appointed Strategic Adviser on Islamic Cultural Affairs.
She explained in a statement, published on the Australian government's official website, how her role has had a crucial impact on the defense sphere's efficiency.
"It gives our people, particularly when working with our close Muslim-allied navies, a better understanding and appreciation of serving Muslims, their needs and how they view the world," she said.
In 1989, Captain Shindy decided to follow in the footsteps of her father who served in the Australian Navy for nearly 50 years. She was only three years old when her family immigrated from Egypt.
Shindy's religious/philosophical perspective
Captain Shindy has achieved as much in her personal life as she has in her glittering career.
She is married and has two daughters and a son. Her career, however, could not have skyrocketed had her extended family not helped her bear the responsibility at home. Her job requires her to stay on board a ship anywhere between two to six months at a time.
#ICYMI Congrats to #YourADF's CAPT Mona Shindy 2015 Business Woman of the Year https://t.co/bcONoGewz1 pic.twitter.com/cDgDx1WuF8

— Mark Binskin (@MarkBinskin_CDF) November 19, 2015
The Chief of the Defense Force, Air Chief Marshal Mark Binskin, congratulates Captain Shindy on her award.
Success was not handed to Captain Shindy on a silver platter. She faced many challenges for being a Muslim, especially after she started wearing the hijab in 2014. Her bold decision resulted in harsh criticism from social media users on various platforms.
She nonetheless realized that after many years of intense life experiences, she was able to face racial vilification with more tolerance and contemplation.
"Maybe when I was younger those things might bite a little bit and hurt," Captain Shindy said in an interview with
The Canberra Times
.
"As I've become more philosophical about the issues in the world today I find myself reflecting on why it is people are making those comments."
In response to the Paris attacks that took place on November 13, Captain Shindy expressed her condemnation and sorrow on her Twitter account saying, "We are moved to #PrayForParis in the face of abhorrent & disgusting evil & inhumanity."
"The ramifications that are there for people of the Islamic faith from the actions of these groups are even more significant than they are for non-Muslims," she said.
"It is Muslims that are on the ground fighting with their lives against these groups; it is Muslims that are fleeing from the activities of these groups, it is Muslims who are investing time and effort into protecting their children against the lure of these groups."
Despite the challenges posed by the rise of Islamophobia, Captain Shindy calls out for more Muslims to join the defense force in Australia. Currently, approximately 100 out of the 45,000 defense force personnel identify themselves as Muslim; 27 of them are in the Navy.
"You can be a proud Australian that loves everything about this great nation and still love your roots and love where you came from and straddle both worlds and both communities," Captain Shindy told The Daily Telegraph.
"That's how I live my life and I like to help other people find their way in living those two things."
So excited to be at national #telstrabizwomen awards with our #ADF leaders #YourADF #AusNavy pic.twitter.com/6Y2V7hNlEY

— Mona Shindy (@navyislamic) November 18, 2015
Captain Mona Shindy with her colleagues at the 2015 Telstra Australian Business Women's Awards.