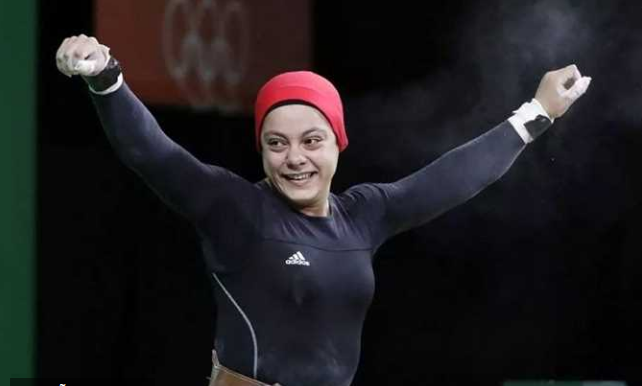 Egyptian weightlifter Sara Samir won three gold medals in competitions held at the 2019 African Games in Rabat, Morocco.
The three gold medals add to the 188 medals (63 gold, 76 silver and 49 bronze medals) claimed by Egyptian champions across various games such as swimming, handball, judo, billiards and more.
The 12th edition of the Africa Games was scheduled to run from August 18 to August 31.
Egypt came on top of the medals count ahead of South Africa, which won 37 medals, and Algeria, in third place with 36.
The Egyptian champ lifted 133 kg in the 76 kg clean and jerk class and a total of 238 kg. She earlier won the gold for the 76 kg snatch competition, lifting 105 kg.
Samir was the first weightlifter to earn Egypt an Olympic medal since 1948 at the 2016 Olympics in Rio de Janeiro.
"After I won the medal in Rio, girls started weightlifting in a big way in Ismailiia," she previously told Arab News website.
The 21-year-old athlete clinched two gold medals last year at the 2018 Mediterranean Games in the Spanish city Tarragona in the women's 69 kg snatch and cleans and jerk category, Kingfut sports news website reported. She won the medals after pushing boundaries by lifting 100 kg and 107 kg in the second round.
In the same event, the Egyptian champion attempted for the first time to lift 127 kg in the clean and jerk. Samir was the fifth Egyptian to claim medals at the Tarragona championship after renowned champs Marwan al-Kamash and Farida Osman.
Furthermore, Samir collected three medals, two golds and one bronze, last year at the World Championship in Turkmenistan: bronze in the women's 71 kg class, lifting 141 kg and 111 kg in the clean and jerk, Al-Ahram reported.