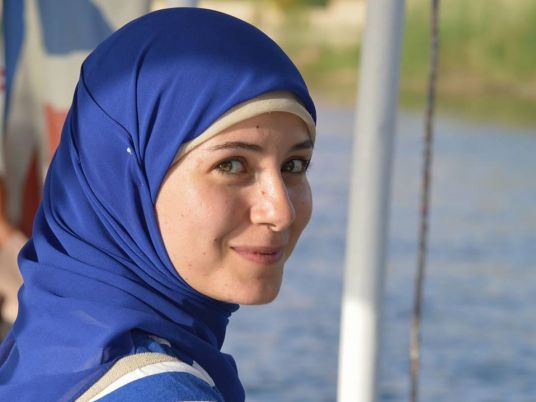 Although Egyptians garner a wealth of knowledge about their country's history from school, not all of them know the hidden stories behind each historical place or monument in the country. A young Egyptian tour guide roamed around Egypt's tourist destinations telling their unknown stories in the form of short videos posted to social media.
With a soft voice, friendly face and rich education in history, Passant Nour el-Din, 28, has published several vlogs about Egypt's historical and cultural destinations, receiving millions of shares and fans on Facebook and encouraging thousands of Egyptians and tourists to visit the places in Nour el-Din's videos.
Nour el-Din's main aim is to encourage Egyptians to feel proud of their history and love their country. Despite the country's difficult economic and security situation, she wants to send a message that Egypt still has something worth people's love and appreciation and that Egyptians should go and visit these places.
"Since I was a child I dreamed of being a TV presenter who broadcast something different; this encouraged me to launch the vlog. I graduated from the faculty of tourism and hotels so I have already a concrete education in history," Nour el-Din told Egypt Independent
Nour el-Din's friends used to tell her that she narrated stories from history clearly and simply; they encouraged her to seek a job as a TV presenter, but it was not easy to find a vacancy.
"One day I was with a tourist group in Alexandria Qaitbay Citadel; I was too tired to enter the building so I stayed outside. The idea popped into my mind to make a short video about something not commonly about the place, so I grabbed my cell phone, took a one-minute video and published it on my personal Facebook account," she said.
Only a few seconds after posting the video Nour el-Din was surprised by her friends's support and positive reaction; they were amazed by her great narration and urged her to do more videos. Nour el-Din launched a Facebook page in March 2017.
In a couple months, Nour el-Din shot several videos to tell the hidden stories about tourist places in Egypt which captured the attention of thousands of Egyptians. One of her most popular videos was the story behind the Sphinx's broken nose – it was believed to have happened during Napoleon Bonaparte's campaign in Ottoman Egypt.
"The true story is: in the 15th century a Sufi man called Sa'im al-Dahr was upset that the local peasants were making offerings to the Sphinx in the hopes of increasing their harvest, so he destroyed Sphinx's nose to prove that they cannot do that," she said in her video.
Nour el-Din made another video about a palace that was used as a location in the famous Egyptian movie "Al-Aydy Al-Naema".
"Every Egyptian has seen this film, but nobody knows where this palace is. I read about it and found a great deal of inaccurate information which pushed me to search for it in Cairo. The palace is right on the Nile in Giza, in front of a long building. It's called Mahmoud Mokhtar museum. People loved the video idea and the new information about this landmark," she said.
Another video was about a love story dating back 4,500 years ago between a dwarf named Seneb and his beautiful wife who gave birth to a girl and a boy. The carved statue is found at the Egyptian Musuem in Tahrir; anyone can pass by it but not everyone knows the story behind it."
"Even though his wife was young and beautiful, she loved him irrevocably which can be see by the way she holds his hand. Seneb's skin is darker than his wife and daughter's because he was working class and was out in the sun all day," she said.
Nour el-Din's main target audience is Egyptians, but she recently added English subtitles to her videos upon request to promote tourism. "Foreigners were not my target audience initially; I believed they knew Egypt was culturally rich and already wanted to come but didn't due to the instability following recent terrorist attacks. When people asked me to add English subtitles, I agreed hoping that my videos can help the revival of tourism here," she explained.
Nour el-Din said she is so happy with the posittve feedback she receives on daily basis from her fans; however, some of the negative comments upset her. "I'm not frustrated by the people who mocked me, but I'm really furious with those who criticized my veil and modest outfits, saying that I'm a Muslim Brotherhood member and my videos have a hidden agenda," she said.
Nour el-Din is working on a new plan for Ramadan and wants to do something in keeping with the spirit of the holy month. Therefore she will shoot videos about historical Islamic sites and Ramadan-related traditions.