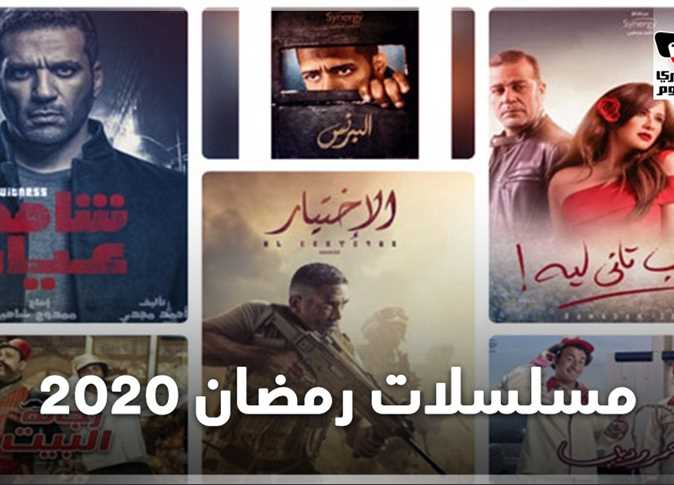 Egypt's television channels have released their Ramadan series schedule for 2020, which includes more than 20 new series.
This season will see the return of more than one star, including Adel Imam, Yousra, Youssef al-Sherif, Nabila Ebeid, and Nadia al-Guindy.

Adel Imam will star in the series "Valentino" and Youssef al-Sherif will play the lead role in "Al-Nehaya" (The End).
Other actors, including Mona Zaki, Ahmed Ezz, Hend Sabry and Haifa Wehbe will not be acting in any of this season's series.
MBC Masr will enter the competition for viewers with four series, a sitcom, and a program.
The channel will air "Sokkar Ziyada" (Extra Sugar) starring Ebaid and Guindy, "Etnain fel Sandoq" (Two in the Box) starring Hamdy Abdel Ghany, and "Lebet Al-Nesyan" (The Game of Forgetting) starring Dina al-Sherbiny and Mahmoud Qabil.
MBC Masr's sitcom, titled "Al-Sherka Al-Almaneya li Mokafahet Al-Khawareq" (The German Company for Fighting the Supernatural), will star Mohamed Abdel Rahman and Mohamed Salam.
The channel's program "Aghlab al-Sakka" (Most of Sakka) will be about actor Ahmed al-Sakka, and will be presented by Razan Maghraby.
The channel Al-Hayat will air "Al-Fetewa" (The Bully) starring Yasser Galal and Mai Omar, "Lamma Konna Soghayarin" (When We were Young) starring Mahmoud Hemida, Reham Haggag and Khaled al-Nabawy, "Bi 100 Wesh" (Of a Hundred Faces) starring Nelly Karim and Aser Yassin, and "Omar wa Diab" (Omar and Diab) starring Mustafa Khater and Ali Rabie.
The channel ON E will present "Al-Ikhtiyar" (The Choice) starring Amir Karara and Ahmed al-Awady, "Regalet Al-Bait" (Men of the House) starring Ahmed Fahmy and Akram Hosny, "Forsa Tania" (A Second Chance) starring Yasmine Sabry and Aiten Amer, and Al-Nehaya.

The channel DMC will present "Valentino" starring Adel Imam, and "Al-Prince" (The Prince) starring Mohamed Ramadan.

The channel CBC will air "Layalina" (Our Nights) starring Ghada Adel, Iyad Nassar, Khaled al-Sawy and Sabreen, "Dahab Eira" (Fake Gold) with Yousra, and "Wa Neheb Tani Leh?" (Why Should We Love Again?) starring Sherif Mounir, Yasmine Abdel Aziz and Karim Fahmy.
The channel Al-Nahar will air "Sultanet Al-Moez" (The Sultana of Moez) starring Ghada Abdel Razek, "Shahid Ayan" (Eyewitness) with Hassan al-Raddad, "Welad Imbaba" (Sons of Imbaba) with Samir Ghanem and Saad al-Soghayar, and "Al-Qamar Akher Al-Donya" (The Moon is the End of the World) starring Bushra.
The channel Sada Al-Balad will air "Gami Salem" (Salem's Group) starring Zeina.
Edited translation from Al-Masry Al-Youm