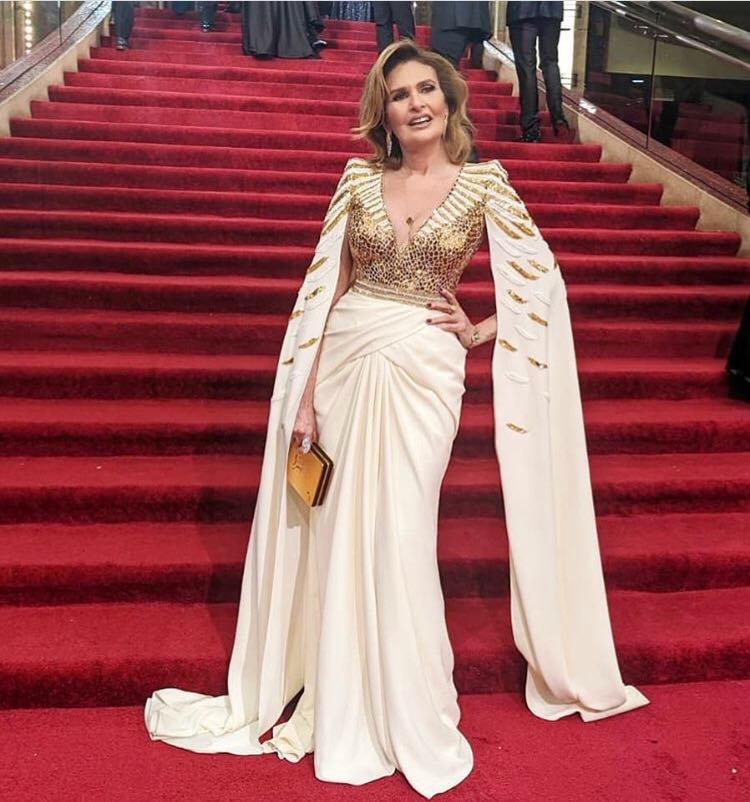 As part of the "Cairo Days for Drama" event currently running in Paris, acclaimed Egyptian actress Yousra and late actor Farid Shawky have been honored by the Arab World Institute on Monday for their distinguished contributions to Egyptian cinema.
To celebrate his 100th birthday Rania Farid Shawky, the actor's daughter and an accomplished actress on her right, attended the ceremony to accept the award on behalf of her father.
Shawky's contribution to Egyptian cinema covered 361 movies, 12 theatrical plays and 12 TV series, according to IMDB.
Some of his best known roles are Cemile (1968), al fatawa (1957) and Amir al-Inteqam (1950).
Set to run from February 16 until February 19 and organized by "Culture Without Borders" association, "Cairo Days for Drama" saw a remarkable attendance of Egyptian celebrities including Elham Shahin, Layla Elwy, Amr Mansi, screenwriters Tamer Habib and Medhat al-Adl, among others.
The event began with a documentary screening on the powerful role Arab cinema has played on culture.
The founder of "Cairo Days for Drama", Abla al-Sewed said that three-day-event offers up a host of seminars and workshops on how to better foster Arab cinema globally to better promote Egyptian/Arab tourism widely.
Interactive participation for journalists and art critics will be part of the activities.
Yousra's career has been packed with significant accomplishments, such as being one of the few Arab stars to be on the Oscars red carpet this year.
Back in 2019, the actress was even invited by the Academy of Motion Picture Arts and Sciences, the prestigious organization behind the Oscars, alongside fellow Egyptian artists Mohamed Hefzy, an acclaimed producer and screenwriter, and Amr Salama, the director of Sheikh Jackson (2017).
As if that wasn't enough, Yousra is even a United Nations Goodwill Ambassador, and earned a spot on Arabian Business magazine's "World's 100 Most Powerful Arab Women" list, as well as their "50 Most Influential Arabs" list, according to her profile on The American University in Cairo's website.
Yousra has racked up more than 60 global and local awards, including the Cinema award at the Arab Women of the Year ceremony in London. She has also taken part in numerous film festivals, including the Cannes Film Festival and Venice Film Festival.
America Abroad Media (AAM) also honored Yousra in November 2019 at its seventh edition during its annual dinner in Washington, DC, celebrating the star's contributions to the film industry.
Having starred in more than 80 films, Yousra is best known for "Al-Ens wa al-Jen" (The Human and the Djinn, 1985) , "Karakon fe al-Sharea" (A Police Station in the Street, 1986), "Al-Mansy" (The Forgotten, 1996), "Al-Irhab Wal Kabab" (Terrorism and Kebab, 1992), and "Toyour al-Zalam" (Birds of Darkness, 1995).
She further solidified her career through collaborations with the famed late Egyptian director Youssef Chahine in "Hadduta Masreya" (Egyptian Story, 1982), "Iskendereya Kaman we Kaman" (Alexandria Again and Forever, 1989) and "Al-Mohager" (The Emigrant, 1994).