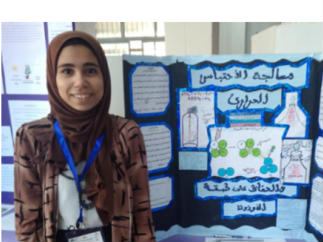 Shirook Mahmoud Mohamed, a second secondary grade student at the Alaa Abuslim Secondary School for Girls in Qalyoub, has successfully managed to produce electricity from inorganic waste.
She said that environment could be protected from pollution to a large extent, pointing out that waste is usually disposed in unsafe manners such as burial. She warned that this method leads to serious risks, especially once groundwater leaks in.
Mohamed added that her project, which she presented at the Science and Technology Fair organized by the Qalyubia Education Directorate, is based on the burning and cooling of inorganic waste such as paper, cardboard and more, inside a pyramid-shaped system.
During the combustion and cooling stages inside the pyramid she uses superoxide gas to produce oxygen from the carbon dioxide made by the burning waste.
She pointed out that the resulting oxygen can be reused in fish farms. Electricity could be generated as well from the heat produced from combustion by utilizing it on glass panels or using water vapor resulting from the combustion of waste, she added.
The project also includes benefits from the ash left in the combustion process by using it in the manufacture of cleaning materials, as well as on agricultural soil to improve the growth of plants, she said.
Edited translation from Al-Masry Al-Youm