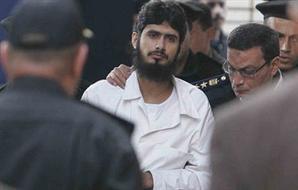 The Egyptian Initiative for Personal Rights (EIPR) on Tuesday welcomed a decision by the Egyptian authorities to cancel an "unfair" verdict issued by the Supreme State Security Emergency Court in 2006 that called for the execution of three people accused of the Taba bombings and the imprisonment of ten others.
The bombings in Taba, a city overlooking the Gulf of Aqaba in the Sinai Peninsula, took place in October 2004, killing 34 people.
The Egyptian government announced Monday that the accused would be retried before a criminal court.
The organization noted that the African Union recently accepted a ruling by the African Commission on Human and People's Rights saying that the Egyptian government had violated the rights of the accused in the case.
EIPR had also filed a complaint against the sentence, together with the International Centre for the Legal Protection of Human Rights (Interights) in 2006. Over five years, the African Commission considered the case, based on memos submitted by the defendants' lawyers and the Egyptian government.
The African Union summit of 27 January had ratified the Interights decision that was issued in March 2011, which stated that the Egyptian government had violated Article 5 of the African Charter on the right to dignity and protection from torture, Article 7 on the right to a fair trial and Article 26 on the independence of the judiciary.
The ruling called on the Egyptian government, according to its obligations under the African Charter, to cancel the death sentences, release the defendants, compensate them for the abuses they have suffered and adopt reform policies that prevent the recurrence of such violations.
It also requested that the Egyptian authorities submit a report within 180 days on actions be taken to implement the ruling. EIPR called on the Egyptian authorities to ensure a fair trial for the accused before a normal criminal court.
"The sentences against the defendants were based on confessions extracted after being subjected to severe torture," said EIPR director Hossam Bahgat.
This was the first time that the African Union condemned Egypt for violating the provisions of the Charter since the country joined the AU nearly three decades ago.