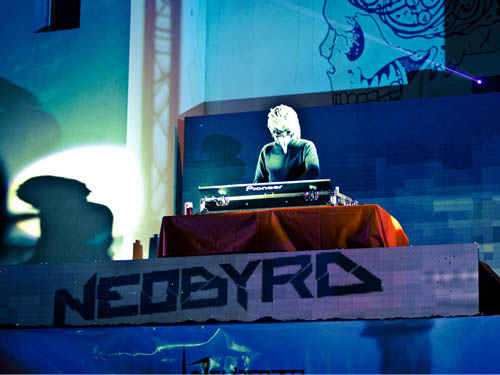 For Ahmed Mehessen, aka "Teknyk," his newly founded record label, Subspace, is "a world within a world."
"That is what Subspace actually means," Teknyk says. "It is a metaphysical place that exists in this world but is inhabited by something greater."
Launched in November, Subspace is the brainchild of local music producer Teknyk and his marketeering business partner, Aly Samaha. They launched the label with the aim of creating a one-stop platform for creative expression, where musicians can develop and release "their gifts to the world."
Born and raised in Brooklyn, New York, 22-year-old Teknyk has been deeply entrenched in the music scene since age 16. As a teenager, Teknyk jumped on the Brooklyn rap bandwagon but soon realized that his passions swayed toward musical production, rather than rapping.
In 2006, he moved to Egypt to study at the American University of Cairo, where he instantly began delving into the local music scene. Working alongside his musical partner, Arketekt — the brother of local rapper Mohamed El Deeb — the two musicians produced an impressively unique, 36-track album titled "AbsTracktion 101."
They self-released the album on the online music publishing platform Bandcamp in April 2009 as part of the duo's ongoing collaboration, "13×26," which can be somewhat classified as experimental hip-hop, a fusion of Arketekt's signature instrumentals and samples and Teknyk's glitch-hop additions.
Around that time, Teknyk also produced beats for a track titled "Waw Noon" for famed rap crew Wight Nazar. It was then that he realized his passion could potentially manifest into a music career.
Samaha, meanwhile, had been pursuing different career ambitions since graduating from AUC in 2010. Focusing on marketing and business, Samaha felt himself drifting more toward the music industry as he began to spend more time with his old friend Teknyk.
"When Tek came to me with the idea of starting a label in December 2011, I could understand instantly how he could be a founder of a label but I didn't quite understand where would I fit in," explains Samaha. "But that is the beauty of Tek. He sees everyone's strengths and knows how to build upon them. Most of my skill set has to do with logistics, management and business, so he proposed that we work together to launch a label."
Teknyk says the idea came about simply because he is, in fact, a musician and could find no viable organizations to co-produce, manage, market and distribute his work. Currently, some of the only channels available to local musicians are mega entertainment companies like Rotana and Melody, both of which deal primarily with music with mass commercial appeal rather than emerging alternative music.
And while there are established, full-circle music organizations like Mahmoud Refat's 100Copies and Tamer Abu Ghazaleh's Eka3, the duo still felt there was room for innovation and development within the burgeoning alternative scene.
"You see, we felt that no one was really providing the necessary range of services for emerging musicians," explains Samaha. "At Subspace, we provide our artists with a whole spectrum of services that takes them through the entire process, from pre-production all the way down to marketing, branding, distribution and concerts."
For Teknyk, what separates Subspace from other labels is how strongly they focus on artist development.
"This entails taking someone on and working with them on an individual basis to determine how we can best build upon their talent and skills to create a sustainable career for them," he says. "We focus on everything from musical skills to identity and image."
He goes on to mention that most of this work happens during the pre-production stage, which he sees as the most important part of launching a new artist. During the pre-production process, a Subspace artist may go through various workshops, trainings and capacity-building programs to help enhance and cultivate their skills and talent.
"Then it goes to Aly's field, which is marketing, promoting concerts, etc.," says Teknyk. "The way it works is that I'm there trying to get the talent out of everyone, and then Aly takes that talent and presents it to the whole world."
Subspace also handles the entire album process for their artists — focusing heavily on the branding, album artwork and physical copy of the record. Samaha mentions that one of the hardest obstacles for musicians is the album distribution process.
"We are already working with a customized distributor, who will make our artists albums available in places like Virgin Megastore, Diwan, gas stations and more," he says. "You see, it is much easier for a focused entity to deal with the logistics and legalities of such matters, versus an artist trying to do it all on their own. This way, the artist can just focus on their creative process."
Subspace officially launched this past January with the record release of their first signed artist, NeoByrd, widely known for his unique blend of house music and trance.
For NeoByrd, local record labels like Subspace are a much-needed component in the development of the local music scene.
"While I was approached by European labels before, I knew that if I were to sign with anyone, I wanted it to be an Egyptian-based label," he says. "I have a deep belief that before a musician can be successful abroad, they must first work to create something substantial in their homeland."
He also mentions that signing with an emerging label allows for a more collaborative and dynamic relationship. He classifies Subspace as an "experimental label full of potential, energy and focus."
For NeoBryd's second album, "The King is Dead," Subspace helped create all the marketing, branding and cover artwork. It also worked with a third-party aggregator to place his album on iTunes, where it is now available for purchase.
This past summer, Subspace also signed on 19-year-old Egyptian singer Malak El-Husseiny — the young, up-and-coming musician experienced a popular breakthrough last year when she was awarded second place in the Sing Egyptian Women contest organized by the US Embassy.
"There are not so many channels available to emerging musicians like me, so when Subspace approached me to sign, I was eager to join their team," says Husseiny. "What is great is that they really help their artists to develop. They are more than a label, they really hone in on your skills and put you through exercises that allow you to grow mentally and emotionally."
And while the singer-songwriter has only just begun writing her own lyrics and music, she credits Subspace and Teknyk specifically with the developments she continues to experience during the songwriting process. Husseiny is now working on her debut EP, which she says is very different from the acoustic music she is known for.
The album is scheduled to drop later this summer, and while it cannot yet be categorized into a particular genre, she says it will incorporate elements of trip-hop and dream pop.
Subspace currently has three artists signed to the label, including Teknyk and Arketekt's collaborative project, 13×26, and the abovementioned artists. The label is also in negotiations with three other local artists from various musical genres who they will announce in the coming months.
"I want to revolutionize pop culture in the Middle East. The thing is, the world has become one giant stage — everyone in every region is putting out his or her take on everything. But then when it comes to the Middle East, it turns into a sink — it is like everything is dumped into it but nothing comes out. At Subspace, we want to change the way the world sees our art and entertainment — one CD and concert ticket at a time," Teknyk says.
This piece was originally published in Egypt Independent's weekly print edition.