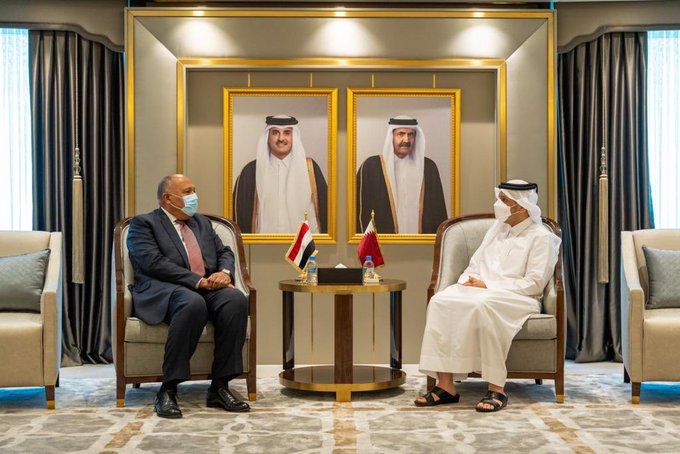 Egyptian Foreign Minister Sameh Shoukry on Monday met with his Qatari counterpart Mohammed bin Abdulrahman Al-Thani in Doha.

The two sides had a "prolonged one-on-one meeting, which was followed by a session of official talks in the presence of the delegations of the two countries," Egyptian Foreign Ministry spokesperson Ahmed Hafez said in a statement.
Al-Thani and Shoukry were both satisfied with the positive developments in Egyptian-Qatari relations following the signing of the Al-Ula Declaration on January 5.
The talks also addressed, according to the Egyptian statement, "the visions and positions of the two countries on the most important issues of common interest at the regional and international levels."
The meeting addressed the most prominent challenges facing the Arab countries in the region, and the importance of furthering cooperation to help the Arab world achieve stability and advance in development, Hafez said.
Both ministers agreed upon on the importance of moving forward to reactivate bilateral cooperation and continuing to hold existing follow-up mechanisms to settle all outstanding issues between the two countries.
The ministers also agreed to develop aspects of bilateral cooperation in priority sectors to achieve the interests of their nations, the statement said.
Following the meeting, al-Thani wrote on his Twitter official account: "I was pleased to receive His Excellency Sameh Shoukry, the Minister and his accompanying delegation in Doha. We discussed means of enhancing cooperation between our two brotherly countries and the positive developments in bilateral relations, hoping that this would contribute to strengthening joint Arab action."
The two foreign ministers also touched on a consultative meeting scheduled to be held on Wednesday under the Arab League to discuss the most prominent Arab issues, including foreign interference that harms Arab national security.
The meeting will also discuss the Grand Ethiopian Renaissance Dam during an extraordinary session of the Ministerial Council.