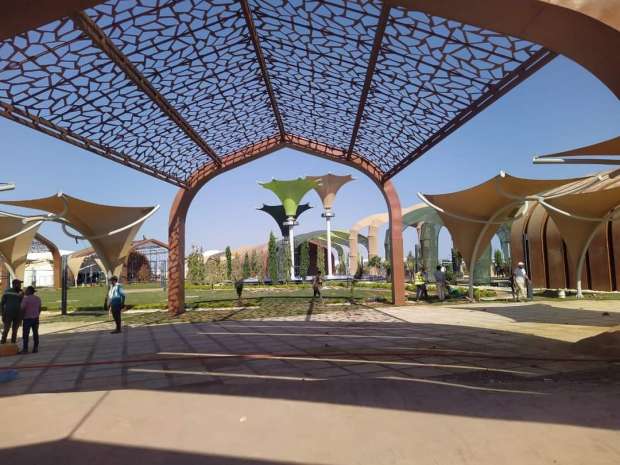 The official website of the Egyptian Presidency for the Conference of the Parties (COP27) has set the procedures necessary for the conference participants to organize a climate rally or march within the area designated for the demonstrations.
The official website clarified that any participant wishing to carry out a climate demonstration within the area designated for climate events shall inform the organizing committee of COP27 with the purpose of the event, the date and duration, the organizer and the approximate number of participants.
The organizer of the rally should also notify the committee of COP27 with point or points of contact with a picture of the conference entry card of the point of contact.
The area designated for demonstrations operates from 10 am until five pm.
In the event that a group of participants wishes to organize a climate march in a public place in Sharm el-Sheikh, this will be reported to the committee 48 hours in advance with the purpose of the march, the date, time and duration of the march, the starting and ending points, the route and the expected number of participants in the march, in addition to the names and contact details of the two specified contact points from the march organizers.
The official website of the committee said that these procedures comes in order to facilitate coordination, communication and exchange of information.
Egyptian Foreign Minister Sameh Shoukry said that Egypt hosts more than 45,000 registered participants in COP27 representing parties, the United Nations, regional organizations, companies, the scientific community, indigenous and local communities and civil society to promote and accelerate the implementation and follow-up of climate action.
A greener Sharm el-Sheikh
Sharm el-Sheikh is set to host the 27th session of the COP27 in November,
Egypt launched efforts to turn Sharm el-Sheikh into an eco-friendly city, with many projects to increase green spaces citywide and boost reliance on renewables used for transportation and hotels.
More than 30 environment-related projects were rolled out recently in the city, reported Egyptian state news agency MENA.
The government plans to develop 30-feddan central park in the city accordance with sustainability criteria, convert the city's hotels to renewable energy sources and apply a new system for solid waste management through the private sector.
Work is also underway to upgrade Sharm el-Sheikh International Hospital to become the first green medical facility in Egypt and Africa through eco-friendly tools.