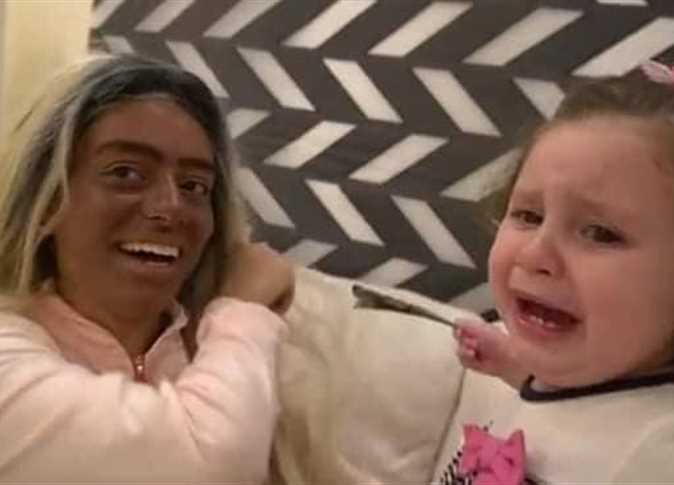 Egyptian police forces on Wednesday arrested vlogger couple Ahmed and Zeinab Hassan, at the request of the Public Prosecution, over charges of terrorizing their daughter Eileen on camera and profiting off her trauma through videos.
The Basateen Police Department arrested the couple near the Ring Road in Cairo.
A recently posted video shows Zeinab having dyed her hair and skin in order to scare her little kid.
https://www.youtube.com/watch?v=HQWMgoYyfQQ
Upon uploading the video, the couple was met with outrage across social media platforms, with accusations of exploiting their child and her misery for fame.
The backlash led to a complaint being filed with the National Council for Childhood and Motherhood (NCCM), which then submitted a report to the Public Prosecution to open an investigation.
Previous incidents included a video where Zeinab pretends to be unresponsive while her daughter cries for attention.
The General Director of the Child Helpline with NCCM, Sabri Osman, said during a phone-in with the Sab7 al-Kheir Ya Masr (Good Morning Egypt) show that these videos display the reckless behavior of the parents.
He explained that their end goal is to achieve fame and collect money, which they have been granted by the popularity of their Youtube channel at the expense of their daughter's welfare.
Osman explained that this incident constitutes child abuse and will be punished by the law through potential life imprisonment and a fine of LE500,000.
The Egyptian Public Prosecution on Monday summoned Ahmed and Zeinab Hassan over complaints regarding abuse of their infant daughter Eileen, according to a report against them filed by the NCCM.
The prosecution heard the testimony of a social worker from the NCCM's Child Helpline, who explained that the helpline's Social Media Monitoring Unit became aware of the incident after monitoring backlash spurred by one of the couple's recent prank videos.
In a statement, the NCCM's Secretary-General Sahar al-Sonbaty said that the Child Protection Office at the Public Prosecution was tapped to open a judicial investigation into the incident.
Sonbaty said that these incidents cannot be justified and the publishing of these videos constitutes child abuse, violating article 80 of the Egyptian Constitution.
She added that it also violates article 96 of the Egyptian Child Law, which includes any cases that involve threatening the safe upbringing that all children are entitled to under the law.
Additionally, their actions constitute a violation of Article 291 of the Penal Code, Sonbaty continued, prohibiting infringement of the child's right against any sexual, commercial, or economic trafficking.
The NCCM will take the necessary legal measures regarding any violations against children, she said.