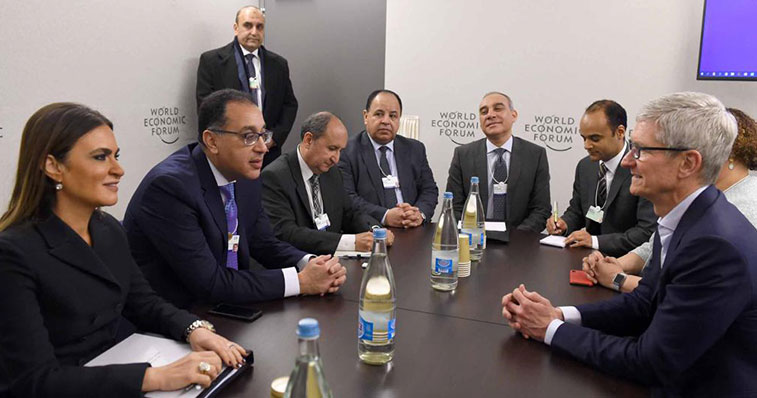 Apple CEO Tim Cook expressed his company's interest to invest into Egypt, and that Apple intends to come to the country for direct investment and is currently studying the plans and structures proposed for areas of targeted investment.
Cook noted that there are 38,000 people working with Apple in Egypt in the development of IOS software applications, and that the company's dealings with them showed a very distinguished group of young people who have advanced skills in this field.
Egyptian Prime Minister Mostafa Madbouly met with Apple CEO on Tuesday during the sidelines of the World Economic Forum in Davos.
Their meeting was attended by ministers of Investment and International Cooperation, Finance, Trade and Industry and Egypt's Permanent Representative to the United Nations in Geneva ambassador Alaa Youssef.
Madbouly echoed the sentiment welcoming the idea given that the rising popularity of Apple products within the Egyptian market.
He added that the government has an ambitious plan supported by President Abdel Fattah al-Sisi to turn Egypt into an electronic and technology center in the region, as Egypt has free trade agreements with several vital geographical regions around the world.
He pointed out the ambitious program for developing Egypt's education which provides 750,000 tablets annually for high school students and stressed the possibility of Apple to benefit from this project through competition to provide these devices.
Madbouly also said that another fertile area for Apple's investment is the New Administrative Capital project with all its technology-based systems as well as 14 other new cities, including smart cities
President Sisi launched an ambitious program to sponsor 10,000 software developers from Egypt and Africa. There are also a large number of Egyptians distinguished in the field of electronics manufacturing and Apple can rely on them for investments in Egypt, the Prime Minister added.
The Prime Minister invited Cook to visit Egypt soon and to meet with the ministers concerned to formulate details of the company's plan of action in this regard.