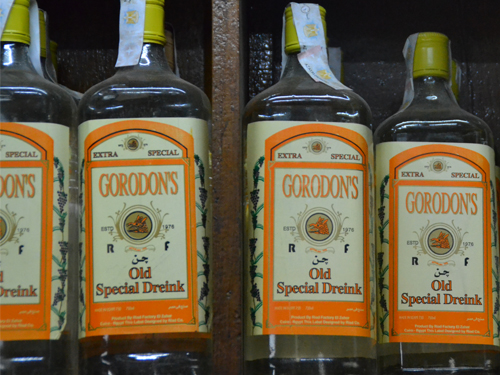 Anybody who has frequented Cairo's non-corporate alcohol retailers or the more humble selection of downtown baladi bars has almost surely come across Egyptian moonshine – illegally distilled alcohol – at one point or another.
At first glance, the majority of local moonshines look like world-renowned brands and products, such as Johnnie Walker Black Label or Smirnoff Vodka. Closer examination, however, reveals names such as "Johnnia Talker Black Tabel" or "Saminoff Fodika," despite their label designs looking nearly identical to the originals.
Such drinks evoke questions: who makes these products, how, and is it true that they, as the myth goes, can make you blind?
To answer such questions, it's important to identify the various forms of moonshine one is likely to find around Cairo. The aforementioned knockoffs extend to gins, tequilas and most other standardized spirits. There's also Zibib, an umbrella term for various illegally produced forms of Arak. And then there's Bouza, an extremely crude – it looks like tahina – form of highly alcoholic "beer."
These three forms of moonshine are the most commonly found in Cairo and are drunk in varying quantities, although Bouza, based upon interviewee responses, is certainly the most frowned upon.
Before 1998, when Al Ahram Beverages Company was privatized and eventually established as Drinkies, it was common to find these various forms of moonshine at or near most of Cairo's alcohol retailers. Since the development of the United Distillery Group (UDG), a subsidiary of Al Ahram that produces a line of medium-to-low-quality hard liquors, many moonshines have since been pushed, albeit it slightly, out of the "mainstream."
"Al Ahram and Drinkies pushed a lot of local peddlers out of the more affluent areas," says Fady, an alcohol supply storeowner in downtown. "But for most of us, nothing's changed really. Same customers."
Many of the counterfeit labels on bottles of moonshine declare that they were produced by the Samios Company or Egyptian Vineyards. Both of these companies have now long been defunct: the Samios Company since Nasser's time and Egyptian Vineyards since Al Ahram and Gianaclis Vineyards, a wine company, left it behind in the public sector after privatizing.
Moonshiners however don't seem to have gotten the memo, and continue producing their product and packaging it with defunct branding, making the quality of such a product highly suspect.
Investigating and sourcing moonshine, though, is not the most welcome activity one can embark on. Luckily, some bartenders are more willing to share their views than annoyed retailers.
"You'll probably find that most if not all of these Egyptian-made hard liquors are made in people's houses or in the backs of factories," says Shihab, the bartender and part owner of one of downtown Cairo's more "exclusive" watering holes, pointing to the knockoffs and Zibib in his collection.
"Bouza is usually made on site, but the others are made and rebottled in new or old bottles; you can print those [counterfeit] labels for dirt cheap," he adds.
Shihab goes on to confidently explain that knockoffs and Zibib liquors can be made by mixing cheap sugars, corn or pomace with yeast, extracting the alcohol with a little pressure cooker, and then filtering it through a T-shirt or cloth; the whole process takes under two weeks. Bouza, on the other hand, can be made within 48 hours by mixing crushed granulated sugar or barley with runny bread dough (to provide yeast), giving it its tahina-like look, and then adding "other" alcohol.
"It's not as good as things abroad, but it works the same for most people," he laughs.
One customer sitting in this little watering hole adds, "At the end of the day, unless you're trying to impress a girl with something expensive, whisky is whisky."
As most illegally produced alcohol is ideally fashioned for lower socioeconomic classes, price, rather than quality, is "everything," according to Fady:
"Most people are bringing in a couple hundred [Egyptian] pounds a month," continues Fady. "They can't spend LE50 [for UDG spirits] on a bottle, so they get local ones for LE20 [a liter] or LE7 [a pint]. They know its not as good as imported stuff, but it's like meat: cheaper meat is better than no meat, right?"
But levity aside, Samir Benhawy, a leading physician for over-intoxication incidents and poisoning at Cairo's Ain Shams University Hospital, also known as Demerdash, wouldn't agree.
Benhawy says that illegal alcohols are the cause of a significant number of cases of poisoning, blindness and possibly even death due to the abundance of methanol and impurities in the products from what he says are "poor" distillation processes.
Not keeping the temperature monitored and consistent during the distillation process produces quantities of methanol, a poison, rather than ethanol, Benhawy says.
"The producers of illegal alcohol make a small profit while we deal with the consequences," states Benhawy. "Either producers don't know, or they don't care, but they shouldn't be selling homemade alcohol because it is only superficially the same."
Though no exact figures exist related to methanol poisoning, Benhawy points out that the numbers were considerable enough for the Mubarak regime to propose a campaign warning against moonshine five years ago, although it never materialized.
"Hopefully if there's some positive changes with issues of bureaucracy we will be able to get the message out with a campaign for consumers who aren't aware," he says. "But otherwise, don't touch the stuff."