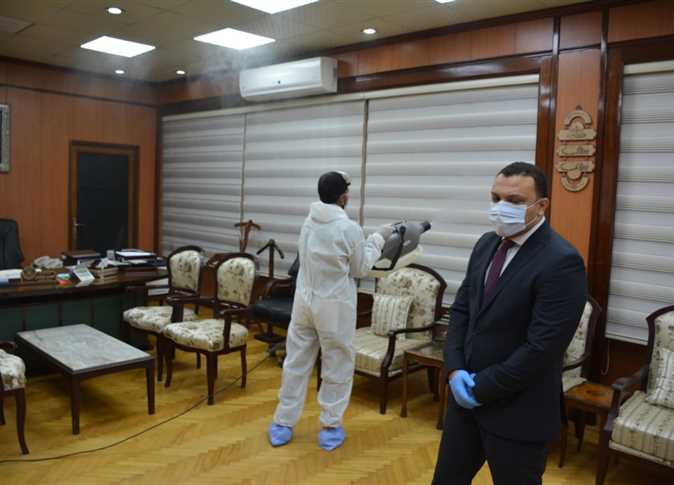 Several places visited by Daqahlia Governor Ayman Mokhtar, such as the ministries of Military Production, Local Development, Irrigation and the headquarters of the Daqahlia governorate announced a state of high alert on Tuesday after Mokhtar contracted the coronavirus.
On Monday, Mokhtar confirmed his infection following a meeting with Minister of Irrigation Mohamed Abdel Ati in Cairo.
Disinfection teams from the health directorate began sterilizing offices and floors, and set up disinfection gates at all entrances to the Daqahlia governorate's main building.
The Preventive Medicine Department gathered samples from every person in contact with Mokhtar during the past few days at the Daqahlia governorate headquarters.
Journalists who had met Mokhtar recently also underwent testing by the Daqahlia governorate's Health Directorate.
The Deputy Governor of Daqahlia, Haitham al-Sheikh, ordered employees to wear masks and forbade entrance to the main building until disinfection measures were finished.
A Monday meeting between Mokhtar and Minister of Local Development Mahmoud Shaarawy had already seen several preventive measures taken such as the measuring of body temperatures, Shaarawy assured.
During a phone interview with the 'Alaa Masaolity' TV show, Mokhtar said that he first noticed he felt tired on Friday and asked the Undersecretary of Ministry of Health Saad Mekky to take samples.
The governor then said that Mekky attended with a nurse and took a smear from his nose and mouth, with the results coming back positive.
Mokhtar promptly underwent a chest x-ray and blood testing to begin treatment.
Edited translation from Al-Masry Al-Youm