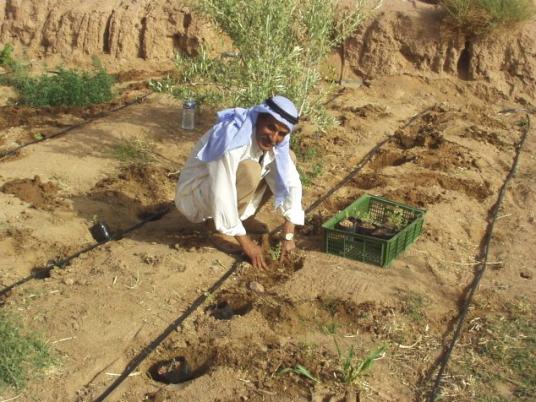 Egypt's Medicinal Plants Conservation Project (MPCP) has been awarded the 2012 Equator Prize for its work to preserve genetic heritage, along with 25 other local community groups across the world that were honored for their sustainable development programs.
The Equator Initiative is a partnership that brings together the UN, governments, civil society, businesses and grassroots organizations to advance local sustainable development solutions for people, nature and resilient communities.
The MPCP was launched in 2003 in the Saint Catherine area of Sinai, one of Egypt's wealthiest botanical areas, which is home to 102 species of medicinal plants, 16 of them being endemic.
"The purpose of this project was to preserve the wild medicinal plants by involving the Bedouin community to achieve both genetic material safeguard while enhancing the residents' lifestyle," explains Adel Soliman, the project manager.
His team identified various threats that were causing the decline of once thriving medicinal plants in the area, the major ones being the gluttony of feral donkeys, which systematically fed on these plants by uprooting them, the overgrazing of goats and sheep, the destructive harvesting habits of the locals and the unregulated picking of plants by scientists.
"We managed to solve the gluttonous donkeys problem almost completely," he says. For each donkey caught — and later sent to the Giza Zoo — the Bedouins would receive LE150, and today the wild donkey population in the area has decreased by 70 percent, according to Soliman.
Workshops in viable harvesting techniques have also been provided to Bedouins, and a handful of "garden farms" have been developed to pursue in-situ cultivation of these plants.
This initiative, mostly directed at women who plant and harvest in gardens attached to their homes, has been a success, and more women are asking for their gardens to be transformed into a small-scale farm.
"We received US$5,000 from the Equator prize, and we will invest some of it to develop additional garden farms because women have been showing a lot of enthusiasm for this initiative," Soliman explains.