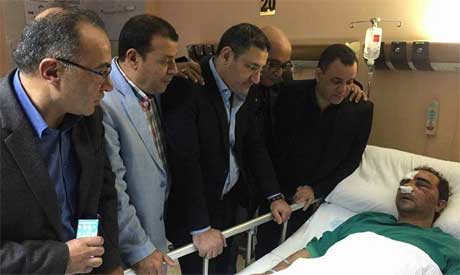 Waheed Mahmoud al-Rifaei Hassan, an Egyptian worker for a Kuwaiti motor repair shop who was hospitalized after being brutally beaten by a Kuwaiti customer on Tuesday for allegedly informing him that the staff were on a break, has spoken out on Thursday about his ordeal.
"I told him that the employees in charge were on a break and that he will be served shortly," Hassan explained to Al-Masry Al-Youm.
"He obviously did not like what I said, and he insisted on getting the spare part right away. His inappropriate manner clearly indicate he was not in a normal state of mind," Hassan added.
Hassan said that on top of verbal abuse from the customer, he was punched in the face and stomach.
"I tried to calm him down but he continued beating me up. He was very well-built. He threw me on the floor and hit me on the head with a motorcycle battery," Hassan recalled. "I lost consciousness and woke up to find myself in Al Sabah Hospital where I was admitted initially in the Intensive Care Unit."
Social media users circulated a video captured by CCTV on Tuesday of a Kuwaiti man brutally assaulting a worker at a central marketplace in the al-Shuwaikh area in Kuwait. In the video, a second man can also be seen standing on the side.
The video elicited the Egyptian public to call for an intervention from Foreign Minister Sameh Shoukry and the Egyptian Embassy in Kuwait.
Hassan added that he only realized how brutal the attack was when he watched the video captured by the CCTV cameras at the workshop.
Additionally, the attack came as a surprise for Hassan, who has been in Kuwait for years and previously felt welcomed as an Egyptian, with Egyptians making up the largest foreign Arab community in Kuwait, accounting for around 700,000 people.
"I was shocked and astonished by what happened. I saw on the video he jumped on my face with his shoes." he said.
"I have lived in Kuwait for years, but I have never been exposed to such incidents," he went on. "I have very fond impressions of Kuwaitis and this isolated incident does not reflect their character. The authorities have promised to arrest the culprit."
However, Khaled Rizk, the Assistant Foreign Minister for Consular Affairs and Egyptians Abroad, believes Hassan was attacked as a result of a dispute over the repair of the Kuwaiti customer's motorcycle.
Nevertheless, Kuwaiti authorities responded by arresting one of the suspected culprits, while they search for the second man seen in the video, and Rizk praised the Kuwaiti authorities' quick response in dealing with the incident.
A delegation of Egyptian editors visited Hassan on Wednesday to check on his health. The editors were in Kuwait City to cover a regional summit by the six-nation Gulf Cooperation Council.
Meanwhile, the Minister of Immigration and Egyptian Expatriates' Affairs, Nabila Makram, said she is visiting Kuwait on Thursday to check on Hassan's condition.