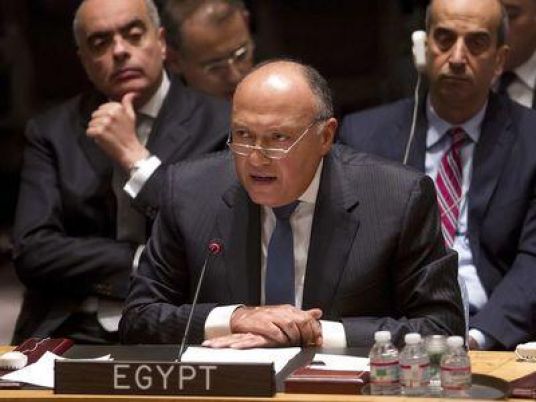 Foreign Minister Sameh Shoukry declared on Wednesday that any initiative or plan to resolve the Israeli-Palestinian conflict will not, in any circumstances, touch Egyptian land.
The minister's remarks came in response to questions raised on Wednesday over recent developments in the international efforts to negotiate a peace deal.
Israeli Prime Minister Benjamin Netanyahu recently stated that some of the terms of a peace initiative put forward by the Arab League in 2002 will need to be revised, throwing into question whether Egypt could be affected by these revisions. In addition to this, news outlets have circulated the notion that a French peace initiative proposed an exchange of land involving Palestinian, Israeli and Egypt.
During a press conference, Shoukry said that settling the Israel-Palestinian conflict is dependent on direct talks between the two sides to discuss the borders of the West Bank and the Israeli settlements built on Palestinian land.
The Arab Peace Initiative, according to Shoukry, was ratified by the Arab League at the Beirut summit of 2002, and has since been re-endorsed. Shoukry expressed his optimism for realizing peace in the region if the initiative were brought into action.
Regarding his participation in the forthcoming peace conference in Paris, Shoukry was asked during the press conference if Egypt will put forward any proposals.
"It goes without saying that the Paris conference is considered an important development," he responded. "We hope that the two sides resume talks to reach a two-state solution and the establishment of an independent Palestinian state based on the "1967 borders", with its capital in East Jerusalem."
Edited translation from Al-Masry Al-Youm