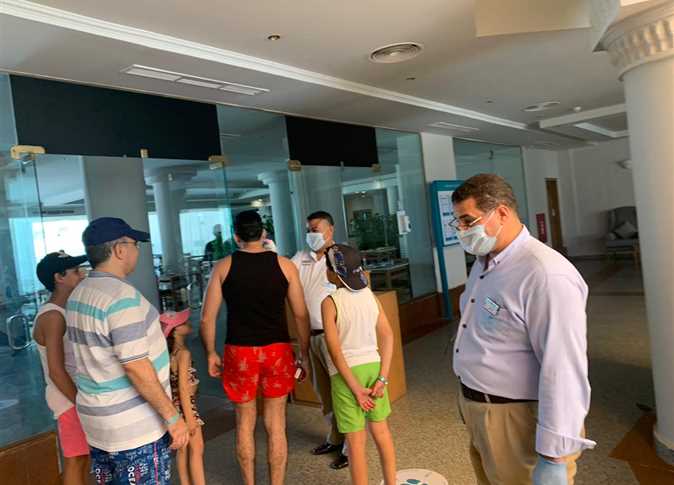 Egyptian hotels in Hurghada on the Red Sea were among the first group of hotels to receive domestic tourist after hotels were temporarily ordered to close due to the ongoing coronavirus pandemic.
Fifty-seven Egyptian guests and 11 foreign guests checked into the Hurghada hotels on Friday.
Friday was the first day of hotel operation according to new regulations issued by the Egyptian government and the Egyptian Hotel Association (EHA), requiring hotels to receive a health safety certificate in order to re-open.
Domestic tourism is expected to increase during the Eid al-Fitr holiday, which begins on Sunday.
Tarek Fahmy, director of one of the hotels in Hurghada, said that his hotel received guests on the first day of operation for domestic tourism according to the new regulations.
He added that the guests' temperatures were taken and their bags were sterilized before they were checked in. Guests were then introduced to the rules regarding pool and beach use, dining, and the use of all other hotel facilities.
Fahmy added that 10 rooms were reserved on Friday, and that reservations will increase in the coming days, according to confirmed reservations from tourism companies.
He added that the hotel is committed to lodging guests at 25 percent capacity until the end of this month.
He stressed that the hotel will provide a safe stay for the guests and workers by banning buffet service and instead relying on menu-only dining, banning hookah pipes, taking guests' temperatures before they enter the hotel restaurant, leaving a safe distance between tables, providing a clinic and a doctor in the hotel, and ensuring the quality of the personal protective tools and sterilization materials used.
Minister of Tourism and Antiquities Khaled al-Anany announced earlier this month that the nation's hotels will operate at a maximum 25 percent capacity until June for domestic tourism. From June 1 onward, Anany said, hotels will operate at a maximum 50 percent capacity.
Egypt had suspend tourism in March as part of measures to combat the spread of the coronavirus. Tourism is a vital sector in Egypt. The tourism sector accounts for about 12 percent of Egypt's gross domestic product.
The tourism sector is one of the most severely impacted sectors of the economy by the coronavirus outbreak, which has undermined tourism and the airline industry worldwide.
Egypt on Friday confirmed 783 new coronavirus cases, bringing the country's number of confirmed total cases so far to 15,786. The total number of COVID-19 deaths has now reached 707 nationwide, after announcing 11 more deaths.