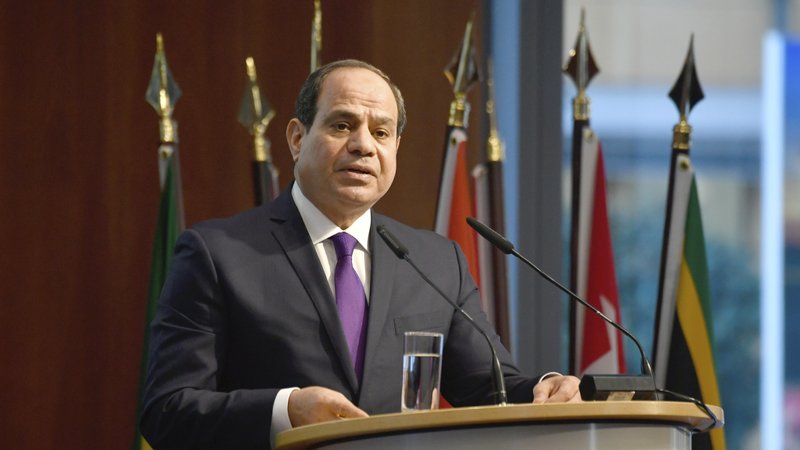 Egypt's government will provide assistance to the private sector of the economy if needed, President Abdel Fattah al-Sisi said on Tuesday, while also emphasizing that the private sector needs to continue paying employees' wages while maintaining their safety during the ongoing coronavirus pandemic.

"We aim to deliver support to informal workers, while continuing to ban any gatherings," he added during an inspection of medical equipment prepared by the armed forces to help combat coronavirus.
Public and private sector companies should continue their operations, and should also have faith in the joint effort between the armed forces and the Health and Interior ministries, so that the pace of work continues as required, Sisi said.
"I am not in support of disrupting work and stopping life completely, because there are millions of people [in need of work], but the numbers can be reduced," he added.
Sisi thanked Egypt's medical staff, calling on everyone to extend their gratitude to them for their efforts and sacrifice.
"This is their role and now is its time. This is a struggle and a war," he added.
Sisi affirmed that schools and universities have been suspended for the safety of students, reassuring parents that the future of their children was in safe hands.
The suspension of schools and universities prevented between 20 and 22 million people from gathering in large groups, he noted.
Sisi stressed that the armed forces and the police were acting together and using their full capacity to maintain stability in Egypt and the safety of the people.
He also stressed that basic commodity reserves in Egypt are stable and will last several months.
Sisi advised citizens to continue to take all preventive measures against the spread of infection including wearing masks, saying that he noticed people were still not taking the necessary precautions.
Egypt on Tuesday confirmed nine additional deaths and 128 new coronavirus cases, bringing the country's number of confirmed total cases so far to 1,450.
Ninety-four people have died from the virus in Egypt. 
The newly infected cases are all Egyptian nationals who returned from abroad or were in contact with previously confirmed cases in Egypt, Health Ministry Spokesperson Khaled Megahed said, adding that the total number of fully-recovered cases rose to 276 on Tuesday, all of whom have been discharged from isolation hospitals.
A total of 427 positive cases have been tested in Egypt, with all results now returned negative.
Seventeen cases left quarantine on Tuesday.