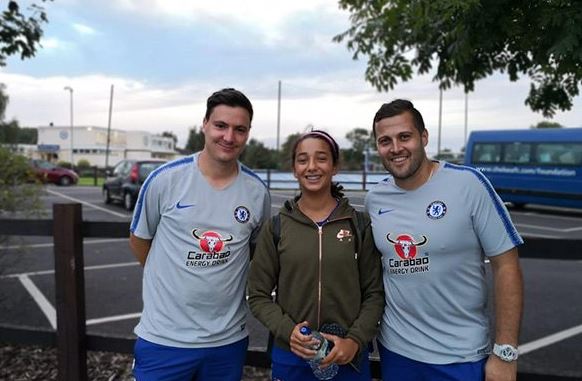 Egyptian footballer Dana Kareem is following in Mohamed Salah's footsteps, shooting to international stardom. The young player just got a deal to be signed by Chelsea FC and will start officially playing for the club in April 2019.
The story started when Kareem, who currently plays for Egyptian club Wadi Degla, got the chance to play for Chelsea for two weeks, "I went to FCB Escola Soccer School when I was five years old and I was the only girl. When I was older I went to a private academy before joining Wadi Degla," she told Nogoum FM.
However, her dream of playing on an international level never left her. "My dad took videos of me playing and started contacting clubs abroad, like Chelsea, and I got to join them on residency for two weeks. After I was done, they said they want to sign me and asked me to come back in April," she said.
Finally, Kareem went on to say that while it is a challenge to move her entire life to England to play for Chelsea, she was up for it, stating, "If Chelsea still wants me by next April, I will sign a contract with them and move my life and education to England. Every girl can do what boys do as long as she goes after it."
Kareem, however, is not the first Egyptian female footballer to join the Premier League, as this record is held by 19-year-old Sara Essam, also an ex-Wadi Degla player, who signed with Stoke City in 2017 at the age of only 18 years old.
Several Egyptian footballers have managed to play and succeed abroad, including Mohamed Salah, who has become a Premier League legend; Mohamed El Neny, who currently plays at Arsenal; and Amr Warda, who currently plays as a midfielder for PAOK FC in Greece.