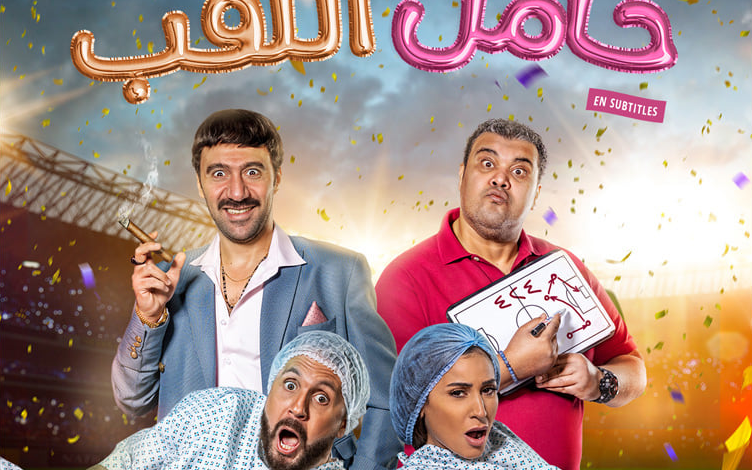 The Egyptian comedy film "Hamel al-Lakab" (The Title Holder) has been chosen as the closing film of Sweden's Malmö Arab Film Festival's 12th edition on May 9.
The film, currently showing in Egyptian theaters, premiered at Egypt's Zamalek Cinema on February and saw a wide release of 60 theaters – it was even screened at the 11th edition of the Luxor African Film Festival.
It then saw a wider release across the Arab world, premiering in the UAE on February 9 – attended by its cast and crew including stars Hesham Maged and Mohamed Sallam, director producers Mohamed Hefzy, Tarek El Ganainy and Roaa Al-Madani and director Hesham Fathy.
Hamel al-Lakab later premiered in Saudi Arabia, Oman, Bahrain, Iraq, Lebanon, Palestine, and Jordan.
It follows the story of married couple Yehia, a football player, and his wife Misk, a gynecologist. Despite their independent successes, the two remain unable to have what they desire most – a child. Yet their years of striving for a baby have finally borne fruit through a true miracle: the catch? Yehia is the one who's gotten pregnant!
The film features some of the brightest stars in modern Egyptian cinema, with the likes of Dina al-Sherbiny, Mohamed Sallam, Hesham Maged (who also writes), Ahmed Fathy, Mohamed Tharwat, Donia Maher, Laila Ezzal-Arab and Emad Rashad.
Hamel al-Lakab is produced by Film Clinic in co-operation with RP Films, TVision and the Saudi Arabia Pictures Group – its first production in Egypt.
"Malmö Arab Film Festival (MAFF) is the leading and largest film festival dedicated to Arab cinema outside the Arab world. The festival has been held since 2011 and has since then come to provide a platform for Arab cinema in Europe. The starting point for the festival was to create a platform and a meeting place for Arab cinema in Malmö, Sweden and Europe. The festival was founded by the festival's general manager and creative director Mouhamad Keblawi. It started as a grassroots initiative and has since undergone a tremendous development, and is now the largest film festival in southern Sweden," the official MAFF website reads.