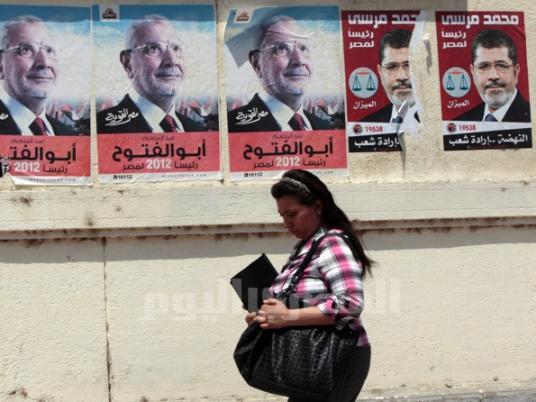 Egyptian expatriates started voting on Friday in the first presidential elections after the overthrow of former President Hosni Mubarak. The voters are choosing between 13 candidates.
According to the Ministry of Foreign Affairs, expatriates in 166 countries will cast their votes in the first round of the elections, scheduled to end next Thursday. The Foreign Ministry said in a statement that Egyptian embassies and consulates are ready to receive the 586,000 expats who have registered to vote.
Sorting will take place immediately after the voting process ends, in the presence of candidates' representatives, representatives from Egyptian communities abroad, and NGOs granted permits to follow the elections.
Voting is starting at 8 am in each state, and continues until 8 pm.
The largest bloc of registered expat voters is in Saudi Arabia (261,924 voters), followed by Kuwait (119,234 voters), the United Arab Emirates (61,427 voters), Qatar (32,836), the US (27,318), and Canada with (11,892).
Foreign Ministry spokesperson Amr Roshdy said that the ballot papers of Egyptians expatriates were available on the Presidential Elections Commission website as of Thursday midnight Cairo time, so voters could print and send them by mail or hand them in to embassies or consulates.
Roshdy said the ministry received instructions from the Presidential Elections Commission that expats can vote using passports or by attaching their images to ballot papers, rather than their Egyptian ID card or a copy of it, provided their names are listed at the embassy or consulate as eligible voters.
Egyptians in Khartoum began casting their votes at the embassy this morning. Ambassador Abdel Ghaffar al-Deeb said the voting process will begin at 9 am (8 am Cairo time) and continue to 8 pm, every day until next Thursday.
He said citizens can come in person and vote at the embassy, send ballot papers by mail, or turn them in by hand after providing an ID and Sudan residence permit, or copies of them.
The Presidential Elections Commission set open vote for expatriates during the period between 11 and 17 May, and set runoffs for 3 – 9 June.
Edited translation from MENA