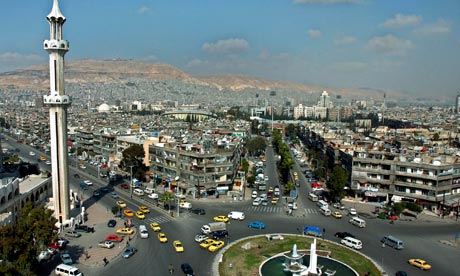 An employee of the Egyptian Embassy in Damascus was wounded in three bombings targeting the Syrian interior ministry that is adjacent to the embassy in the district of Kafar Sousseh.
Chargé d'Affaires Alaa Abdel Aziz said the embassy building was heavily damaged.


EgyptAir suspended flights between Cairo and Damascus in November when the Free Syrian Army and the regime army engaged close to Damascus Airport.


Egypt had also withdrawn its ambassador from Syria in February, in protest against the bloody military campaign waged by the regime of President Bashar al-Assad against protests demanding he step down, which made Syria withdraw its ambassador in return. 


The Egyptian government has supported international efforts for Assad to step down and transfer power.
An EgyptAir official on Wednesday said the airline is bringing back its staff from the Damascus office in 48 hours due to the deteriorating security situation there, which halted flights several times.
Edited translation from MENA