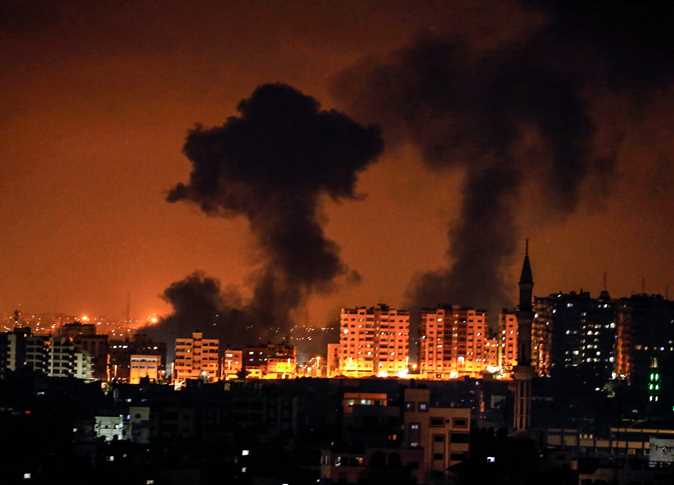 Palestinian factions in the Gaza Strip announced a ceasefire with Israel, after escalated conflict in the last two days led to fears of war in the besieged enclave.
The factions, including Hamas, issued a joint statement saying that "Egyptian efforts have been able to stabilize the ceasefire between the resistance and the Zionist enemy, and that the resistance will abide by this declaration as long as the Zionist enemy commits to it".
Israel has made no official announcement about the truce.
The Israeli army continued its attacks on Tuesday morning, and the Israeli warplanes launching dozens of strikes since Monday evening and firing hundreds of rockets targeted at several houses, civilian and military sites of the resistance, killing six Palestinians and injuring dozens.
The resistance responded by firing a barrage of rockets and shells on the perimeter of surrounding settlements, in an escalation that threatened to prolong the confrontation and open up the possibility of a full-scale war between the two sides for the fourth time since Hamas took control of the strip in 2007.
Israeli fighter jets launched retaliatory strikes on some 150 Hamas and Islamic Jihad sites, and many institutions, homes and civilian targets during Monday and Tuesday morning. The strikes also targeted Hama's Al-Aqsa TV station and the Rahma Building.
Banks and government offices in Gaza Strip were closed on Monday, while the occupation counted about 400 rockets, 100 of which they intercepted, and a shell launched by the resistance.
Ezz al-Deen al-Qassam Brigades, the armed wing of Hamas, claimed responsibility for firing the rockets. In a statement they said they started bombing enemy sites and settlements in response for the crime of infiltration in Khan Younis.
Israeli Prime Minister Benjamin Netanyahu held a meeting of cabinet security ministers to discuss the next steps. The Israeli army said it had sent reinforcements of infantry and armored vehicles to the Gaza border and confirmed readiness to escalate.
The United Nations special envoy for the Middle East, Nikolay Mladenov, said he was continuing to work with Egypt to keep Gaza out of the brink.
Hamas movement leader, Atef Adwan, told Al-Masry Al-Youm that the movement and Israel are not interested in sliding into war and open confrontation.
Edited translation from Al-Masry Al-Youm