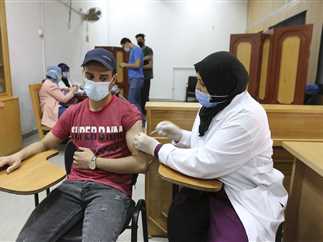 Egyptian Minister of Education Tarek Shawky announced that 95 percent of the target number of teachers and administrators to be vaccinated – 1,605,861 – has been reached.
On Facebook, the minister wrote that: "The number of those who received the two doses reached 246,884, as well as the number of those who received the first dose at 466,178. The number of those registered and vaccinated this week through the Ministry of Health is 87,789."
Minister of Health Hala Zayed said last month that all workers in the education ministries will be vaccinated before the start of the academic year set for October.
Workers within the Ministry of Education and Ministry of Higher Education will continue to be registered for vaccinations until September, before studies begin in schools and universities, she said, as per orders from the Prime Minister in preparation for the start of the new academic year.
She urged all workers within the ministries to register on the website, where they will receive an SMS specifying the date and place of vaccination within 72 hours of registration to receive the vaccine at vaccination centers across the country.
Egyptian President Abdel Fattah al-Sisi ordered the vaccination of all university and school staff and students against COVID-19 ahead of the new academic year.
Public schools are set to begin session on October 9, while international school students are due back on September 12.
Egypt's vaccination campaign has administered a total of 6.4 million doses, according to World Health Organization data.
The country has a population of 104 million.
The campaign aims to vaccinate 40 percent of its citizens by the end of 2021. Ministry workers have visited public markets, public transportation, places of worship, salons, cafes, shops, gathering spaces, and villages to educate the public on the vaccine and encourage them to sign up for the jab.