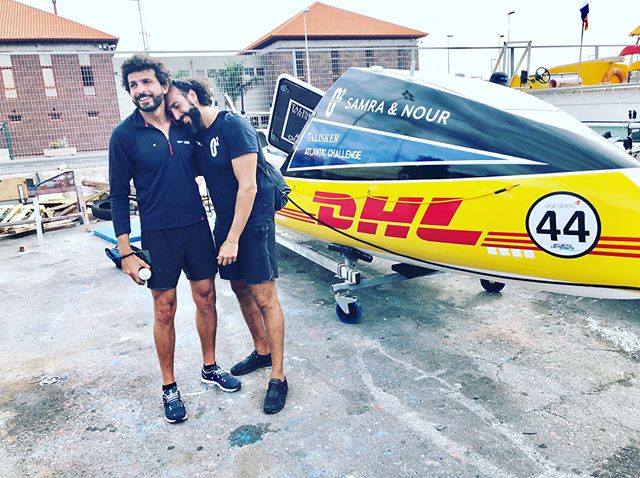 Starting on Tuesday, a rowboat is going to be home to Egyptians Omar Samra and Omar Nour as they embark on their latest adventure; to row 5000 kilometers across the Atlantic Ocean, which they expect will take several months.
"Weather forecasts shows the biggest waves and winds in race history for the start which means there's no gradual settling into this and we have a fast race on our hands. It's going to be scary and sea sickness will be an issue but come hell or high water we're going to have to endure that first week and keep pushing," Samra wrote on his Facebook account.
Samra and Nour, Egyptians residing in Dubai, formed "Team O2" and they will be setting out from the Canary Islands on December 12 to Nelson's Dockyard in Antigua to participate in the Atlantic Challenge, joining other athletes for what is dubbed as "the world's toughest row."
The final training O2 went through was a 60-hour row in October off Gran Canaria, close to where the challenge is set to start.
"Never been happier to make it to a start line. It has been an emotional journey of many months just to get here and we're so thankful to have been given this opportunity to experience life at its most vivid and intense," Samra said at the time, adding that the training gave them a sense of all the challenges they would be facing, including sleep deprivation.
Through 10-15 meter waves, each one of them will be rowing in two-hour intervals while the other person rests and sleeps.
https://www.facebook.com/omarspage/videos/10156042544163989/
"There is real risk and real life threatening danger so you have to prepare as best you can. The main thing is to respect the ocean. You have to come to terms quickly that you are pretty powerless because it is the biggest force, bigger than the sharks, bigger than anything. We have learnt that the first 36 hours will be miserable as the body adjusts to sea sickness," Nour, a professional triathlete, told The National.
The ocean is a new challenge to Team O2, even though they are no strangers to the adrenaline.
Samra was the first Egyptian to climb Mount Everest and the so-called 7 Summits when he scaled the highest mountain on each continent. He also skied to the North and South Pole. On his part, Nour, who once weighed 105 kilograms, and is diagnosed with diabetes, is now a professional triathlete and an advocate for an active, healthy life.
Through satellite communication, Samra and Nour will be keeping the world up to date on their expedition.