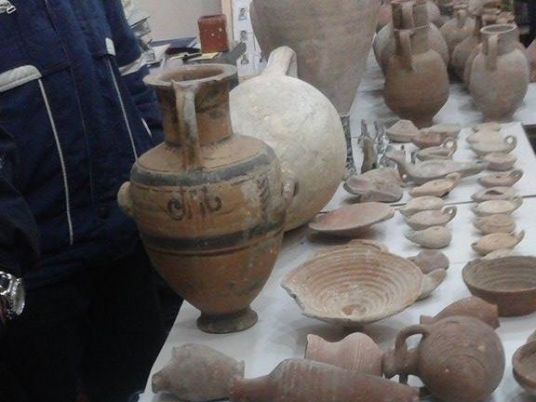 An Egyptian delegation headed to Paris to retrieve 114 artifacts smuggled to France, following investigations launched by Egypt in cooperation with France resulting in the recovery of these artifacts after they were put up for sale.
The artifacts were transferred to the Egyptian embassy headquarters and unpacked, where the president of the Supreme Council of Antiquities and the Director of the Recovered Antiquities Department began procedures for the inspection, examination, inventory and recovery of the antiquities in preparation for transfer to Cairo.
The Egyptian ambassador in Paris Alaa Youssef hailed the recovery as yet another achievement within Egyptian-French bilateral relations.

He noted the strengthening of joint cooperation between both nations over recent years and continuous coordination between judicial authorities in the past two years, which helped played a major role in the recovery of these artifacts.
Egypt's top prosecutor Hamada al-Sawy said that smuggling artifacts is a serious crime against the Egyptian people as it concerns their historical and cultural heritage.
He assured that the Public Prosecution will follow a plan within the framework of the Egyptian state's strategy to restore its smuggled antiquities.
Sawy also touched on the importance of developing a strategic plan to exchange experience between the Egyptian and French sides regarding criminal investigations and to use the latest technologies in detecting crimes such as terrorism and money laundering, antiquities smuggling, domestic violence and organized and transnational crimes.