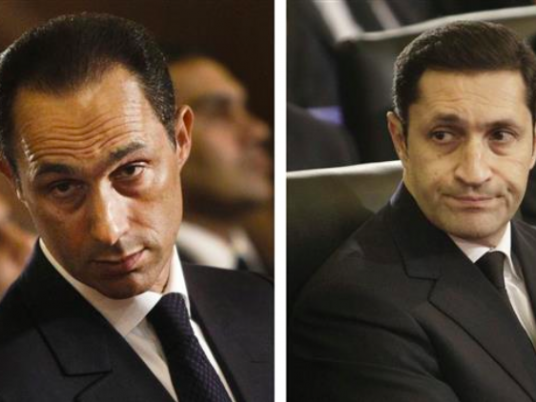 On Tuesday the Economic Court in Cairo decided to lift the seizure order on the funds of Gamal and Alaa Mubarak, sons of late president Hosni Mubarak, after approval from the Public Prosecutor.
The President of the Court of Appeals received a letter from the Central Bank of Egypt, regarding the approval of the Public Prosecutor to end the effect of the ban on disposition No. 98 of 2020.
This was also in conjunction with Case No. 70 of 2014, concerning money laundering.
The decision includes Alaa Mubarak, his wife Heidi Rasekh, and his son Omar, as well as Gamal Mubarak, his wife Khadija al-Jammal, and his two children Farida and Mahmoud.
The initial ban came from a case that was deemed as profiteering from the sale of Al Watany Bank of Egypt to the National Bank of Kuwait.  It was the only case that put Mubarak's two sons in prison. They were were acquitted on all other accusations against them after the January 25 Revolution, 2011.
The Cairo Criminal Court in February 2020 acquitted Alaa and Gamal Mubarak of illicit share trading, charges dating back to the sale of Al Watany Bank of Egypt in 2007.
The court also ruled the lessening of the legal proceedings due to the death of Ahmed Fathi Soliman, and also cleared six other defendants in the case.