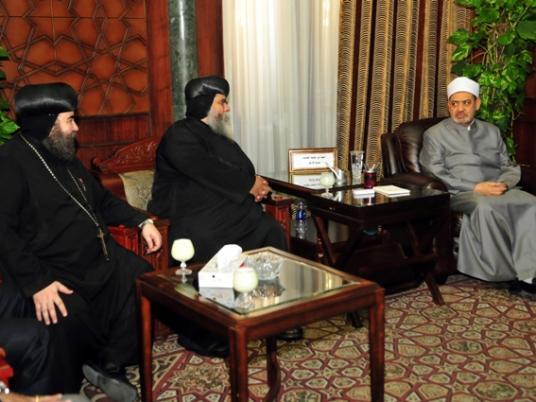 Egypt's three major churches and the Maspero Youth Union have come out in support of Al-Azhar's proposed basic freedoms document, which lays out a basic framework for respecting freedom of belief and expression in Egypt.
The Orthodox, Catholic and Evangelical churches all support the document, and the Maspero Youth Union said that while it welcomed the content, the group rejected its validity because it was issued by a religious institution.
On Tuesday, Al-Azhar announced the proposal, which observers believe is a bid by the institution to assert itself as the voice of moderate Islam at a time when more conservative Islamic groups are ascendant.
The institution spent three months drafting the document in collaboration with secular and Islamist scholars, and it was issued as Egypt prepares to draft a new constitution.
Andrea Zaki, vice president of the Evangelical Communion, told Al-Masry Al-Youm that the bill was "historical."
Zaki added that the document reassures Egyptians as well as foreigners.
According to Zaki, the rights document is "the key to the modern state, a point of hope for the future of Al-Azhar, and its gift to the Egyptian revolution on its first anniversary."
Zaki explained that the Evangelical Communion hopes to promote the document in cooperation with other churches. It is based on three main principles: freedom of faith, freedom of expression, and freedom to innovate and conduct scientific research.
Pope Shenouda III, leader of the Coptic Orthodox Church, signed the document at a Wednesday ceremony held at Al-Azhar's headquarters because of its "profound impact on the future of the country" and potential to unite Egyptians to "achieve the principles of the revolution," an Orthodox Church source said Thursday.
The source added that the Pope was "keen to participate [in the signing ceremony] in person because he believes in Al-Azhar as a moderate religious institution."
Bishop Mark of Shubra al-Kheima, agreed that the Orthodox Church "believes Al-Azhar is a moderate institution and considers it the primary authority on Islam in the whole world."
Father Rafiq Geraish, the spokesperson for Egypt's Catholic Church, said the timing of the document is important, especially in light of the recent emergence of radical religious ideas in the political sphere.
Hany Ramses, a member of Maspero Youth Union, emphasized the union's appreciation and respect for Al-Azhar, but rejected the proposal on the grounds that it was issued by a religious body.
Freedoms must be recognized by the state, not a religious institution, because the state is primarily responsible for its citizens, Ramses said.
Translated from Al-Masry Al-Youm