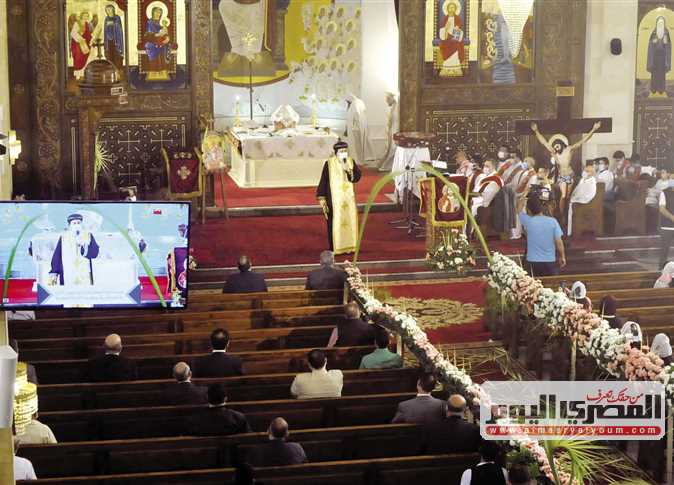 Egyptian churches celebrated Easter Sunday amid a limited numbers of worshipers, with strict precautionary measures against the coronavirus in place for the second year in a row.
Pope Tawadros II, Pope of Alexandria and Patriarch of Saint Mark Episcopate, presided over the Sunday Easter Mass at the Abbasseya Cathedral of St. Mark, with limited attendance due to pandemic conditions.
Churches across the country differed on the procedures followed to celebrate Easter under the precautionary measures in place, which varied between allowing 25 percent participation of the church's capacity, holding the mass without worshipers or popular presence, and limiting attendance to monks and deacons only.
The Coptic Orthodox Church apologized earlier for not making receptions on or before Easter Sunday, and said it appreciates the good wishes and love from everyone.
Coptic Catholic Patriarch of Alexandria is Ibrahim Isaac Sidrak, presided over the Sunday Mass at the Holy Virgin Mary Coptic Catholic Cathedral, in Nasr City.
The Evangelical community in Egypt celebrated Easter Sunday without an audience, with attendance limited to members of the General Evangelical Council, heads of evangelical sects in Egypt, members of the Evangelical Endowments Authority, and the pastors and elders of the Heliopolis Evangelical Church.
The head of the Evangelical Church Andrea Zaki said in his speech during the mass, "I would like to extend my apologies to the officials, including ministers, politicians, parliamentarians, religious and popular leaders, who confirmed their participation in the celebration based on the invitation sent by the evangelical community."
The mass of the Anglican Episcopal Church in Egypt was also limited to special invitations and the provision of an additional hall to take into account the social distancing among the attendees.
Edited translation from Al-Masry Al-Youm