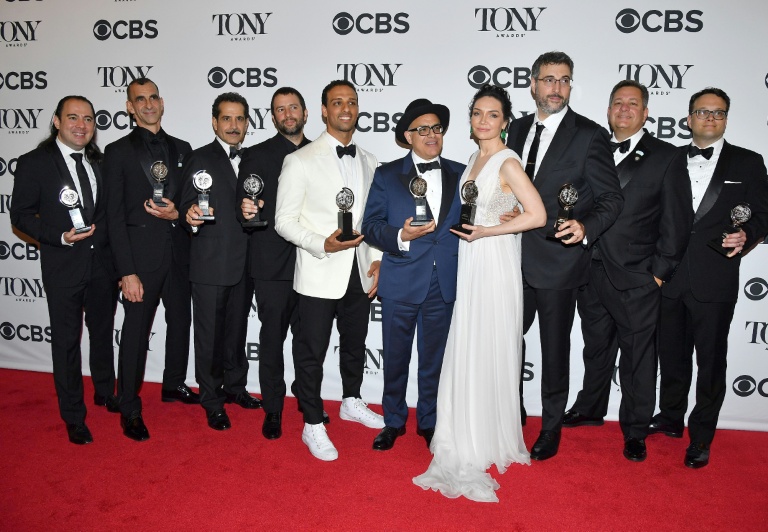 A heart-warming musical about an Egyptian band visiting an Israeli desert town triumphed on New York's Broadway late Sunday, sweeping the board with 10 Tony Awards, the highest honors in American theatre.
It was an extraordinary success for a quiet, contemplative, 90-minute production aching with longing for human connection and understanding, far removed from the brash commercialization of its competitors.
"Harry Potter and the Cursed Child" was the other big winner of the biggest night in Broadway, going home with six gongs, including best play from the star-studded 72nd annual Tony Awards.
Nominated eleven times, "The Band's Visit" triumphed over "Mean Girls" and "SpongeBob SquarePants: The Broadway Musical" — the two most nominated shows — for the prestigious best new musical prize.
"Our show offers a message of unity in a world that more and more seems bent on amplifying our differences. In the end, we are far more alike than different," said producer Orin Wolf in accepting the award.
Its Arab-influenced score, spliced with klezmer, is the work of composer-lyricist David Yazbek, based on the book by writer Itamar Moses and directed by David Cromer. All three won Tonys.
Dialogue is in heavily-accented English, with smatterings of spoken Arabic and Hebrew, evoking the atmosphere of being in the Middle East.
While the Arab-Israeli conflict is never referenced, human connections forged through music and culture prove a bridge when the Egyptian musicians wind up in the wrong town owing to a pronunciation error.
"I am part of a cast of actors who never believed that they'd be able to portray their own races," said Ari'el Stachel, an Israeli-American who won a Tony for his Broadway debut as Egyptian band member Haled.
"We're getting messages from kids all over the Middle East thanking us and telling us how transformative our representation is for them."
Katrina Lenk, who delivers a star turn as Israeli cafe owner Dina, and Tony Shalhoub as band leader Tewfiq, also took home Tonys.
De Niro Expletive
Lenk dedicated her award to the Israeli actress who created the role in a 2007 film and to the famed late Egyptian singer Umm Kulthum.
Shalhoub paid tribute to his father and relatives who migrated to the United States from Lebanon, saying his award honored their aspirations, courage, resourcefulness, creativity and selflessness.
Hosted by singers Sara Bareilles and Josh Groban, the ceremony was a three-hour infomercial for Broadway largely avoiding all but discreet references to liberal America's opposition to President Donald Trump.
That was until Robert de Niro won a standing ovation for twice using an expletive to refer to the Republican head of state.
Last year's Tonys were anchored by the now disgraced Oscar-winning Kevin Spacey, whose career was ruined by sexual misconduct allegations as part of the #MeToo cultural watershed sweeping the United States.
On Sunday, Bruce Springsteen was given a standing ovation and delivered a rare televised performance after being honored for his smash-hit Broadway run, one of the hottest tickets in town.
Otherwise "Harry Potter and the Cursed Child, Parts One and Two," written by English screenwriter and playwright Jack Thorne, led the way in a strong showing for British talent.
The play imagines the fictional boy wizard as a grown-up father of three, set 19 years after the events of J.K. Rowling's seventh and final book, and which first opened in London in 2016.
At 82, British actress Glenda Jackson won her first Tony as best actress in a leading role in a play for "Three Tall Women." Already a double Oscar winner, Jackson was for 18 years a member of parliament.
"Angels in America," set against the 1980s AIDS crisis, won three Tony's including for leading British-American actor Andrew Garfield and best revival of a play, for its transfer from the London stage.
The ceremony also saw British composer and musical impressario Andrew Lloyd Webber given a lifetime achievement award.