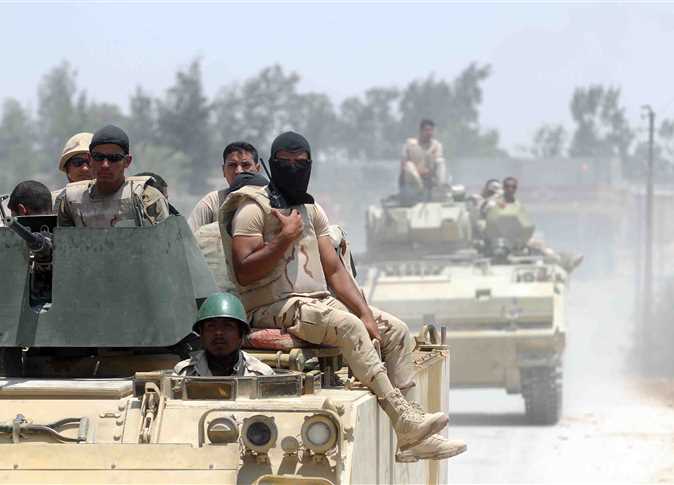 The Egyptian Armed Forces announced on Wednesday the elimination of 27 top dangerous elements, as part of the comprehensive military operation titled "Sinai 2018". The cross-fire killed 24 armed takfiris, and one Armed Forces recruit.
In its Statement 30 on the operation, the Armed Forces stated that 403 wanted criminals and suspects were arrested.
The operation also discovered and destructed 342 hideouts and shelter to house terrorist elements. They found inside explosives, cars, and motorcycle spare parts, in North and central Sinai.
The Air Force reportedly destroyed 61 four-wheel vehicles on the western and southern borders, and eliminated three highly-dangerous elements in the Western Desert. In North Sinai, it also destroyed a four-wheel vehicle hidden inside a farm, and an ammunition store.
The army has seized a number of arms, ammunition, and communication devices.
Military Engineers discovered and detonated 344 improvised explosive devices (IEDs) that were planted to target the various operational hubs in the area.
The operation also resulted in the seizure of 26 vehicles and 83 motorcycles without license plates, used by terrorist elements.
Border guards strengthened security measures along the border areas in all strategic directions, the statement added, to counter the smuggling of weapons and drugs that threaten the security and stability of the country.
In response to the increasing terrorist threat in North Sinai, the 'Comprehensive Operation Sinai 2018' was launched on February 9 by different branches of the army, including the Second and Third Field Armies located in Sinai.
The operation aimed to implement a comprehensive plan of action against terrorist and criminal elements, and organisations in North and Central Sinai, other parts of the Nile Delta, and desert areas west of the Nile Valley, according to an army statement released at the time.
Since 2014, North Sinai has witnessed a growing number of terrorist attacks carried out by IS in the Sinai Province, including various attacks against the army and the police. The increase in terrorism followed the ouster of former President Mohamed Morsi. Morsi's party was affiliated with the Muslim Brotherhood, which Egypt subsequently banned as a terrorist group.
Edited translation from Al-Masry Al-Youm