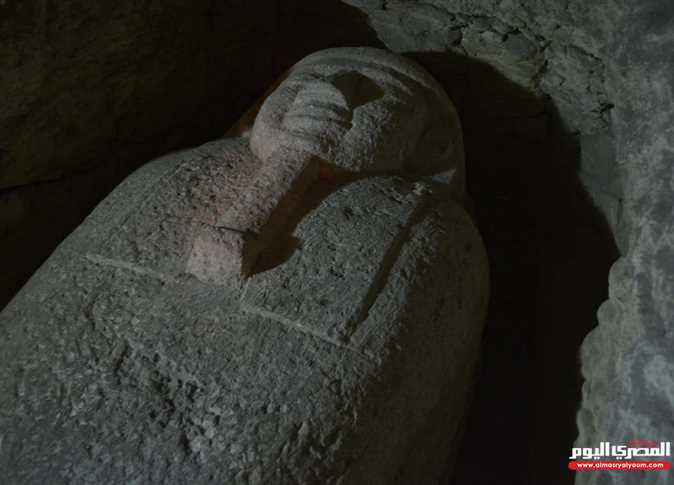 Egyptian Antiquities Minister Khaled al-Anany announced on Saturday the discovery of an ancient cemetery in Tuna al-Gabal, Minya in Upper Egypt, which includes stone coffins with 40 mummies, 10 of which are children and the rest grown men and women.
During a press conference on Saturday, Anany said that this was the third discovery in Tuna al-Gabal over the past three years. The first discovery that came after excavation stopped in 2010 was in May 2017, while the next finding came shortly after in February 2018.
Anany added that new archaeological discoveries will soon be announced in some areas of Egypt.
Secretary-General of the Supreme Council for Antiquities Mostafa Waziry said that the discovery announced on Saturday is beautiful, and features many artifacts and ancient mummies.
He added that Anany, Tourism Minister Rania al-Mashat, Minya Governor Qasem Hussein and 13 ambassadors from Arab and European countries visited various archaeological sites of Minya, including Tuna al-Gabal, Tell al-Amarna, and Bani Hassan on Friday evening as part of their tour in Minya to participate in the announcement of the new archaeological discovery.
Waziry said that the visit revealed the history of the Pharaohs through the inscriptions on the walls, which confirm the existence of a hockey-like sport, wrestling and physical therapy in Egypt since thousands of years ago.
He added that Antiquities Ministry organized 30 missions during the years 2017-2018 to different governorates, which had a very positive effect on the tourism movement.
Mashat congratulated the Antiquities Ministry for the archaeological discovery, which gives strength to Egypt's tourist areas, and also praised the attendance of foreign ambassadors and diplomats to shed light on the event and Egyptian tourism.
Edited translation from Al-Masry Al-Youm