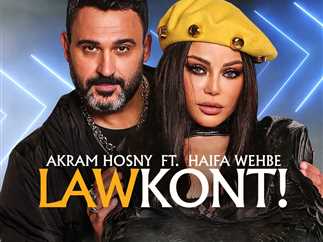 Egyptian actor Akram Hosni and Lebanese superstar Haifa Wehbe announced the release of their first joint duet music video "Law Kont" (If I Was).
The song is written and composed by Hosni, distributed by Tomah, produced by the Ideology company for artistic and media production, and directed by Hossam al-Husseiny with photography director Ahmed Bashary.
Hosni as well as Wehbe launched a hashtag for the song on Monday morning along with the poster of the song.
Hosni commented: "If I were a geometric shape, I would be tempted to deviate," while Wehbe wrote: "If I had a closed eye, I would still see."
The hashtag went trending on Twitter, becoming #3 in Egypt and #1 in Lebanon.