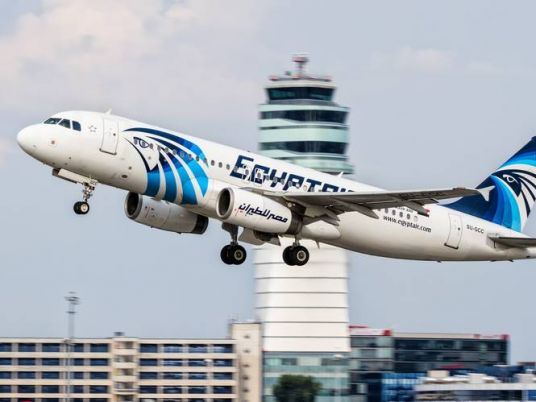 EgyptAir's newest aircraft, the Dreamliner Boeing 787-9 has operated the longest trip in the world powered by sustainable fuel, at 13 hours starting from Seattle city in the US and landing in Cairo's headquarters, The National reported.
According to The National, the biofuel-powered aircraft flew for a distance of 10,973 kilometers.
In efforts to protect the environment, EgyptAir received the Boeing 787-9 which is designed to reduce CO2 emissions at up to 80 percent.
Showing its devotion to sustainability, EgyptAir became the first airline to operate Boeing's new aircraft, which is a significant part of Boeing's "sustainable fuel delivery program" that enable airlines to operate their flights with biofuel and thereby ensure environmentally friendly trips.
"We are committed to the sustainable growth of our airline and supporting commercial aviation's efforts to protect the environment," said Ahmed Adel, chairman and CEO at EgyptAir, in a statement.
The Dreamliner is the fifth aircraft to be delivered to EgyptAir under its agreement with Irish aircraft company AerCap, according to The National.
Aengus Kelly, Chief Executive of AerCap hailed EgyptAir's operation for the Dreamliner as a "perfect choice", and that it reduces fuel emission usages by 25 percent.
The Dreamliner is powered by biofuel harvested from agriculture remains in California by World Energy, Biofuels News reported.
As part of celebrations, Boeing Middle East posted on its official Twitter account, "What a special day! Congratulations EgyptAir upon receiving Boeing 787-9 and recording the longest flight to Cairo using the sustainable aviation fuel."
The Airline Geeks news website highlighted EgyptAir's plans to welcome its first Airbus A220-300 by the year 2002 to meet the same sustainability as well as efficiency ambitions.