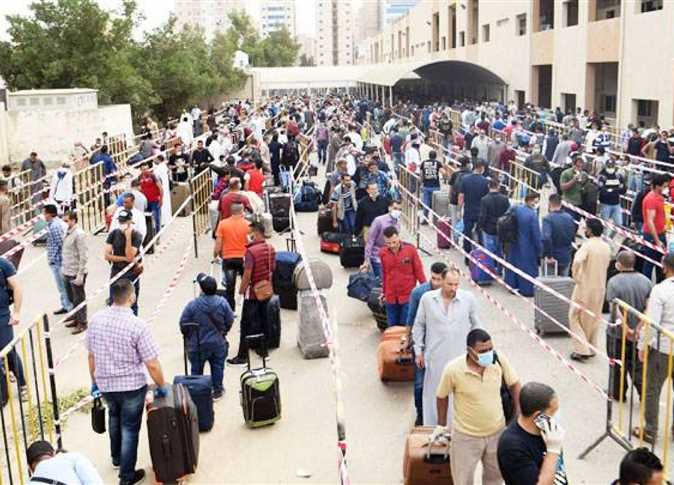 An EgyptAir flight carrying 298 Egyptian expatriates who were stranded in Kuwait arrived at Cairo International Airport on Tuesday.
The flight was chartered in accordance with President Abdel Fattah al-Sisi's directive to repatriate all of the country's citizens who have been stranded abroad due to coronavirus, especially humanitarian cases, children, and immigrants who were in violation of their host countries' residency requirements.
Physicians performed medical tests on the returnees at Cairo International Airport, implementing preventive measures before allowing them to depart the airport.
The Egyptian government has prepared university student housing compounds to quarantine returnees who are suspected to have coronavirus.
The Ministry of Health will supervise the returnees during the 14-day-quarantine period.
Other flights from Cairo are scheduled to arrive at the airport, repatriating more citizens who remain stranded.
The flights are part of a plan by Egypt's Ministry of Immigration, announced by Minister of Immigration Nabila Makram, to repatriate all Egyptians stranded abroad before the Eid al-Fitr holiday.
Egypt's Ministry of Aviation — in cooperation with the Ministries of Immigration, Foreign Affairs and Tourism — has already successfully organized a total of 22 special flights between April 21 and May 5 to return Egyptians who were stranded abroad due to worldwide flight bans.
Egypt's Marsa Alam International Airport on Tuesday received an flight carrying 327 Egyptians, including 25 children and 37 orphans, who were stranded in the United States due to the coronavirus outbreak.
The airport will receive another two flights on Tuesday evening, one from Baghdad and another from Khartoum.