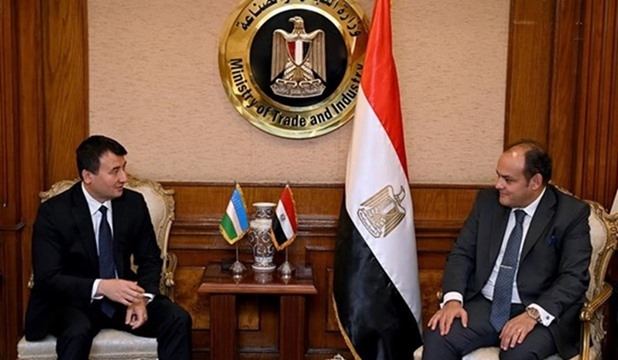 Egypt is keen on boosting economic relations with Uzbekistan, said Trade and Industry Minister Ahmed Samir Monday.
Uzbekistan is an important country in central Asia, Samir said during a meeting with visiting Uzbek Deputy Prime Minister Jamshid Khodjaev earlier in the day.
Samir said Uzbekistan could serve as a gate for Egyptian exports to central Asian markets. He added that his Ministry is looking forward to benefiting from Uzbekistan's big industrial experiments.
The meeting took up means to enhance trade exchange, as well as industrial and investment cooperation between the two countries in the coming stage, the minister further said.
The ministers also reviewed a number of economic files of mutual concern, and the situation of the global economy, a statement by the Ministry read.
Samir posted Khodjaev on big business opportunities in Egypt, whether the production or service sectors. Investors in Egypt could very well benefit from free trade deals sealed between Cairo and other governments that are members in major global economic entities, the minister noted.
He called for establishing a joint business council between Egypt and Uzbekistan to help push forward economic and trade cooperation.
Samir put the volume of trade exchange between Egypt and Uzbekistan last year at about 49.9 million dollars, up 7 percent on about 46.6 million dollars achieved the year before.
Khodjaev, for his part, said that Tashkent eyes enhanced trade, industrial and investment cooperation with Cairo. Egypt is one of the pivotal countries in the Middle East and North Africa region, he said, stressing that Uzbek companies are interested in doing business in the Arab country, especially at the Suez Canal Economic Zone (SCZone).
He made it clear that Uzbek President Shavkat Mirziyoyev is scheduled to visit Cairo soon, especially after Egyptian President Abdel Fattah El Sisi's historic visit to Uzbekistan in 2018.