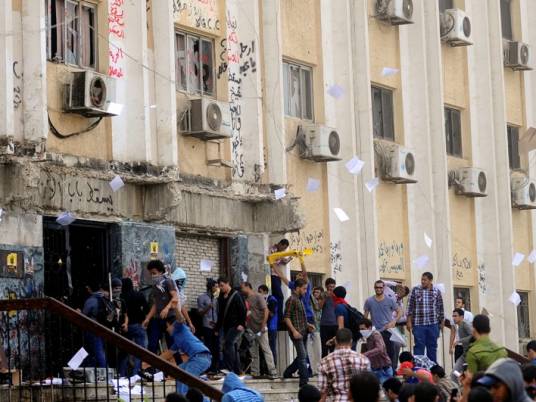 Egypt's universities have experienced the most violent week from 9 to 14 November as a result of political turmoil and clashes, according to a report released by the non-profit association of freedom of thought and expression (AFTE)
The AFTE believes that this current period is the "worst and the most dangerous ever" since the 25 January revolution, which has threatened the student freedom and universities' independence as well.
"This week saw all kinds of violations, as security forces attacked the university campuses, throwing tear gas bombs and gunshots which caused dozens of student injuries," the report read.
The report emphasized a noticeable increase in the number of suspended students in universities, including heads of student unions. Moreover, some students were suspended without even being called in for questioning.
The report continued "the violations crossed all boundaries when the police officers detained students from the university campus and arrested others from their homes."
The report also pointed to well-known occurrence of anonymous civilians showing up alongside the police officers at the university campuses during the attack of students, a very common scenario during the rule of ousted President Mohammed Hosni Mubarak.
The AFTE noted that this period is threatening the students' lives and the whole educational system, which needs an immediate and strict resolution, apart from further security interference as it will worsen the situation more and more.
The AFTE's weekly report covered the violations in many universities in Egypt including Cairo, Ain Shams, Al-Azhar, Alexandria, Zagazig, Mansoura, Tanta, Beni Suef, Menia, Asyut, Sohag, Aswan and Suez Canal universities.
The report includes only the information which was ascertained by a network of observing students in Cairo and other universities.
On 11 November the administrative security forces of Zagazig University along with some bystanders attacked a march of "students against coup," firing gunshots and stones.
Moreover, the report found at the same university unnamed assailants stormed and crushed the mechanics department of the Faculty of Engineering as they searched for the pro-Brotherhood students who had joined any protests against the current regime.
In Mansoura University on 12 November more annonymous civilians joined the police in attacking the university's gate and clashing with the "students against coup" march, which was demanding the return of the former president Mohammed Morsy and overthrowing the university head.
The forces fired tears gas inside the campus and fired gunshots, which lead to more than 40 injuries and random detentions.
Meanwhile, at Damietta University the dean of the Faculty of Science decided to suspend the head of the university students union Esslam Abo El-Maaty for two weeks without any interrogation, in light of previous clashes at the university.
In a further violation against student rights, recently Cairo's misdemeanor court sentenced on Wednesday twelve pro-Mosry students from Al-Azhar University to 17 years in prison on charges related to off-campus rioting in October on the premises of Al-Azhar Sheikhdom headquarters.