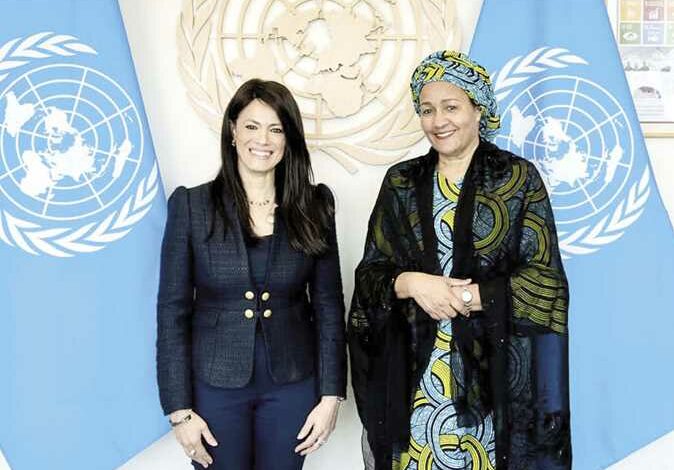 Egypt's Minister of International Cooperation Rania al-Mashat met with a delegation from the United Nations to discuss enhancing the role of the Egyptian private sector in implementing adaptation projects and mitigating the repercussions of climate change.
The meeting also discussed ways to enhance joint development cooperation relations, and climate action efforts to advance plans from developing and emerging countries to transition to a green economy.
The talks dealt with the government's efforts to achieve the transition to a green economy, increase renewable energy through the sustainable energy strategy 2035, and prepare the national strategy for climate change 2050.
Mashat said that Egypt is implementing ambitious plans in parallel at the water sector to enhance sustainable management of water resources, as well as renewable energy, stimulate green investments through the private sector, implement adaptation projects and mitigate the repercussions of climate change, and produce green hydrogen.
She also hailed the strong relationship between Egypt and the United Nations and its affiliated agencies and programmes.
Mashat referred to Egypt's experience in matching development finance with the UN goals for sustainable development, as the current portfolio of development finance included 372 projects by the end of 2021, with a value of US$26.5 billion, supporting the country's development vision according to the UN's sustainable development goals.
Regarding climate action projects, the current portfolio includes 28 development projects implemented by the state in cooperation with multilateral and bilateral development partners, with the aim of reducing the negative repercussions of climate change.
Mashat explained that these are worth $2.85 billion, accompanied by 46 other projects to mitigate the effects of climate change with development funds amounting to $7.8 billion to promote the adoption of environmentally friendly practices in several sectors.
The minister stressed the importance of innovative financing to advance climate action and expand private sector participation in financing adaptation projects to help in mitigating the repercussions of climate change, and the role that multilateral development banks must play in advancing this type of financing.
The UN Under-Secretary-General, Amina Mohamed, UN Under-Secretary-General for Economic and Social Affairs Liu Zhenmin, and the Director of the United Nations Development Program, Achim Steiner, participated in the talks.