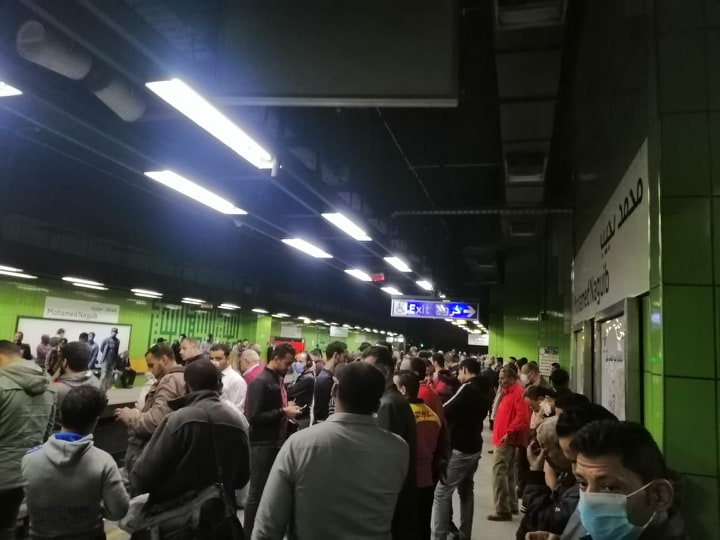 Egypt is adding two trains to the al-Marg-Helwan first metro line and two trains to the Shubra al-Khaima-al-Munib second line starting Thursday, March 26 to prevent overcrowding in the trains before the start of curfew hours, according to the Spokesperson for the Egyptian Company for Metro Management and Operation Ahmed Abdel Hady.
The move comes after photos and videos spread on social media of packed metro stations and trains shortly before the curfew began on Wednesday. 
Hady also said the time between trains will be about one and a half minutes, which should prevent overcrowding.
He added that trains, ticket stations, and waiting areas are being disinfected on a continuous basis and pointed out that all employees of the Egyptian Company for Metro Management and Operation are required to wear face masks.
Change is always available at points for ticket sales, which should also prevent overcrowding of passengers in the metro halls, Hady said. 
Updated schedules for the metro were released on March 24, with trains now running daily from 5:30 am till 5:30 pm, except for Thursday, when trains run from 6 am to 6 pm.
Egypt imposed a two-week nationwide curfew from 7 pm until 6 am starting March 26 and extended school closures an additional two weeks to fight the spread of coronavirus.
During a press conference on Tuesday, Madbouly also announced that shops will be closed from 5 pm until 6 am during the week, while all nonessential stores will be subjected to a complete shutdown on Fridays and Saturdays. All means of public and private transportation are suspended during curfew hours.
The closure decisions do not include bakeries, pharmacies, grocery stores or supermarkets outside shopping centers, Madbouly said. 
Cafes will also be shuttered nationwide and restaurants will be limited to delivery. 
Egypt has confirmed 456 cases of coronavirus and 21 deaths. 
Two senior military officers have also succumbed to COVID-19. 
Photo from Wednesday, March 25 (Al-Masry Al-Youm)